"JUSTICE INCARCERATED" CAN BE SEEN IN IT'S ENTIRETY ON YOUTUBE.
Or enter, http://www.youtube.com/watch?v=E2ok8hDBvhU in your browser.

Temujin would love to hear from you. Please write him at:
Temujin KensU
MRF 189355
34625 26 Mile Road
Lenox Twp., MI 48048
---
If you wish to send a letter of support for Temujin's rapid release, use these links:
governorsoffice@michigan.gov for Michigan's Governor Gretchen Whitmer
NESSELD@michigan.gov for Attorney General Dana Nessel
---
WHAT'S NEW
---
Temujin faces yet another Christmas behind bars. This makes 35 for the innocent man. Yes, innocent. Everyone who has looked at his case agrees that he could not possibly have committed this crime. Is he still in prison because those responsible for this travesty are engaged in a cover up?

What makes this particularly timely is the number of Chinese visitors to this website. While it is not a popular website with the masses and has nothing for sale, it still gets a few dozen hits a week. Some are for the science and math articles. I have visitors from many countries. Most hits are for Temujin. Many weeks, a large number of them are from China.

"The White House announced U.S. diplomats will boycott the 2022 Winter Olympic Games in Beijing to protest Chinese human rights abuses, though American athletes will still compete with full government backing. China called the move, "a self-directed political farce" and accused the U.S. of "politicizing sports."




---

Saturday, October 2, 2021

Temujin's story as well as similar tales of many others were featured at the "WRONGFUL CONVICTION SUMMIT". It was held at Wayne County Community College and had several speakers and panels dealing with the subject. What a shame that in our nation, the supposed bastion of freedom, we have so many wrongfully convicted. The court system is burdened with many cases. It is the easy way to just throw a person in jail and move on to the next. That does not make it right. We must do better.
---

Wednesday, August 11, 2021
Temujin lost two of his supporters recently:

Michigan Senator Carl Levin died July 29 at age 87. He was a longtime supporter of Temujin's innocence and called out often for his release.

Channel 7, WXYZ, the ABC affiliate in Detroit quoted him on January 4th of this year. The by line, Denial of clemency still being reviewed by the AG. Levin said "It is a big blow to his supporters and justice in Michigan that this miscarriage of justice continues to live on".
Dorothy Mongan, my wife, died August 6 at age 80. She had supported and loved Temujin for over 20 years. He lovingly called her mom. Fortunately he was allowed to join the zoom service at her burial. We will both miss her greatly.
---
Wednesday, April 7, 2021
The Prosecutors is a podcast by Brett and Alice, who bring their real life courtroom experience to focus on questionable trials. Their latest episode, #68 Temujin Kensu, Part 2, digs deeply into the highly flawed prosecution of Temujin Kensu. https://prosecutorspodcast.com/

"The only evidence against Temujin Kensu was a green army jacket found in his car, that's it. Witnesses said they thought the killer was wearing a green army jacket."

Their conclusion, "It's pretty evident he didn't do it. Clearly to me he isn't guilty, Temujin is innocent. …He doesn't need to spend one more day in prison."
Friday, April 2, 2021
Temujin's story is getting more attention from the press. Here are links to two videos, Unjust and Unsolved and also The Prosecutors podcast.

Both do a fine job examining the case. One element they miss is the media feeding frenzy surrounding the trial. It was a time when Ninja movies were becoming popular. This sparked the imagination of many viewers. It also made it imperative that he be convicted to preserve reputations. Trial by press.
---

Tuesday, February 23, 2021
A most excellent article on Temujin's case can be found in this recent article in Voice of Detroit newsletter:
---

Tuesday, January 5, 2021
This is just getting silly. The governor, Whitmer, denied a pardon for Temujin citing the Parole board. The parole board says they do not deal with innocence. The Attorney General, Nessel, was left out of the loop. The Conviction Integrety Unit has not yet finished their investigation into his actual innocence. There really is no doubt that he is innocent.
It is like when you were a little kid and the big kids would play keep away so you never got a chance to get the ball. No longer a question of why. The great and powerful pulled some real shennanigans to convict him. This protected the actual killer. It also polished the reputation of the prosecutor who was under a national spotlight. The case had become a media feeding frenzy. Temujin (then Fred Freeman) was being billed as "THE NINJA KILLER". Too juicy to pass up.
So why, dear Governor, are we clinging to this fantasy. Political Ambition? Afraid it will cost the state too much to compensate him?
Meanwhile Temujin is becoming the national poster boy for wrongful convictions. Maybe some real justice would serve you better, either here or in your heavenly reward. The angels are watching. The reputation of our state is suffering.
ALSO
Finley: Ex-cop works to free innocent man
(Reprinted with permission of Mr. Finley)
Herb Welser spent 25 years with the Port Huron Police Department working to put bad guys behind bars.
In retirement, he's spent much of his time trying to unlock cell doors for an innocent man his former colleagues in St. Clair County have kept wrongly locked up for 34 years.
Welser, who retired in 2005 as head of detectives in Port Huron, is among the legion of justice advocates working on behalf of 57-year-old Temujin Kensu, also known as Fred Freeman, who is serving a life sentence for a murder he could not have committed, based on the evidence presented.
"I've spent hundreds of hours on this case over the past 13 years, and there's no doubt in my mind that Fred Freeman had nothing to do with this murder," says Welser, now a private investigator who is donating his services on behalf of Kensu's cause.
It's the same conclusion reached by nearly every legal expert who has reviewed the case, including the University of Michigan Innocence Clinic.
The former Escanaba resident has become the poster child for unresolved wrongful convictions; his story has been told on a variety of national media platforms, including two podcasts over the past year.
But court challenges to his conviction have been rebuffed, not on the facts, but because of legal technicalities that kept exonerating evidence from being presented. And on Tuesday, Gov. Gretchen Whitmer denied Kensu's latest request of clemency on the recommendation of the parole board.
Kensu was found guilty of the Nov. 5, 1986, Port Huron killing of Scott Macklem, 21, the fiancé of his former girlfriend.
Welser bases his certainty of Kensu's innocence on two major points.
"Number one is the timing," he says. "He was in Escanaba in a Big Boy restaurant until at least 1 a.m. in the morning, according to very good witnesses, including the manager of the restaurant. The murder was at 9 a.m. in Port Huron."
"But at a quarter to noon that same day, he was seen in a martial arts studio in Escanaba. Another woman, who didn't even like Fred, puts him there at that time."
Kensu couldn't have driven to Port Huron, 450 miles away, killed Macklem and got back to Escanaba during that time frame.
That leads to the second reason Welser believes Kensu is innocent. He says former St. Clair County Prosecutor Robert Cleland concocted a wildly speculative magic carpet defense to destroy his alibi, and the jury bought it. Cleland, now a senior federal court judge, was allowed to raise the notion that Kensu, a broke drifter, could have chartered a private plane, flown from the U.P. to the Thumb, killed Macklin and flown back in Escanaba before noon.
"An airline pilot testified it was possible," Welser says. "But no evidence was presented at all that it actually happened."
Welser's work, along with that of the UM clinic and Proving Innocence, a group led by former Detroit TV reporter Bill Proctor, helped convince Attorney General Dana Nessel to assign Kensu's case to her new Conviction Integrity Unit for review.
Valerie Newman, who heads a similar unit for the Wayne County Prosecutor's office, has been tapped to lead the investigation. The CIU and Welser share the same goal — not just proving Kensu's innocence, but finding the real killer.
Kensu's best hope appears to lie with the two women who can close the loop on his alibi — his ex-girlfriend who says he was with her at the time of the murder, and the then-high school student who was on a date with him at the Big Boy. Neither were called to testify in his defense but are willing to do so now.
Welser believes they hold the key that at last unlocks Kensu's cell door.
For the detective, freeing Kensu is an obsession that comes with some internal conflict in that it pits him against former colleagues.
"It was a hard decision for me to get involved — this was the police department I retired from; these were the officers and prosecuting attorneys I had a good working relationship with," says Welser.
"I just couldn't walk away from this. I knew it was the right thing to do. If I was in prison for something I didn't do, I would hope that someone would help me."
Twitter: @NolanFinleyDN
---
Thursday, December 3, 2020
Well Thanksgiving came and went without a pardon from Governor Whitmer. No surprise there, he is no help to her political aspirations, so why bother. Oh well, he has only been in prison for 34 years. By the way, he is innocent. Many, many reputable people have said so. A new podcast has just come out. It adds to the many voices asking for justice. Thank you Maggie Freleng.

Maybe by Christmas? I have my doubts. With so much pointing to this being a phony conviction in the first place, why let him go now. It is politics keeping him jailed,

HE IS A POLITICAL PRISONER.
---

Friday, November 13, 2020
Temujin had an anniversary today. It was not one for celebration. He has been behind bars for 34 years for a crime he did not and could not have committed. Sad that so many authorities are complicit in this awful injustice. It has not gone unrecognized as many postings here show. The latest on the NBC affiliate in Detroit can be seen here:
https://www.clickondetroit.com/news/local/2020/11/04/man-convicted-in-1987-murder-case-fights-to-have-conviction-overturned/
We are immensely proud of Temujin. For all he has endured, he is still a good guy, free from drugs and other prison vices. He has helped many other inmates with their legal issues. It would have broken many men. Bless you lad, keep the faith.
---

October 20, 2020
Praying for huge movement and quick resolve on my case under review by Michigan's Conviction Integrity Unit. Praying thousands write and call our governor urging her to release me. I want to be home by thanksgiving! Let's make it happen!
Email the governor: governorsoffice@michigan.gov and Gretchen.whitmer@michigan.gov Call the governor: 517-373-3400 Write to our governor: Gretchen Whitmer P.O. Box 30013 Lansing, Michigan 48909
Thank you for your ongoing support. We can't slow down now! Help us push this over the finish line!!!
Here's what we wrote:
Dear Governor Whitmer, We are sorry that your term in office has been fraught with such contentious issues. We believe that in your heart, you are striving to do the right thing. You have shown courage in your convictions. Our dear friend Temujin Kensu, 189355, has also experienced many frustrations. He is an innocent man in prison for 34 years. We have known and supported him for 20 of those years. There is no question of his innocence, he could not have committed the crime. Hopefully the Conviction Integrity Unit will soon confirm that. Why he has not been released is a mystery to us. There is no virtue in denying him freedom. We know him well and that he will be an excellent citizen. Please release him with a full pardon.
---
July 27, 2020
Court TV recently featured Temujin's case.
Part 1

Part 2

The Court TV feature does point out his plight. They mention one hurdle he faces is that the prosecutor on his case is now a federal judge. The judicial establishment is careful of its own. Even though one judge did find in his favor, she was overturned. Fair? You be the judge.
July 9, 2020
Temujin is holding his own against the virus. It is especially difficult as we are experiencing a heat wave and he is cooking in a concrete cell.
YOU CAN HELP
Prov

ing Innocence has launched a dri

ve, gathering signatures on a petition to Governor Whitmer for his immediate release. The petition can be found here:

https://www.change.org/p/gretchen-whitmer-free-temujin-kensu-fka-fredrick-freeman?recruiter=2190344&utm_source=share_petition&utm_medium=facebook&utm_campaign=psf_combo_share_abi&recruited_by_id=ec36e980-c95e-012f-6d55-4040ea65fa16&utm_content=fht-22820566-en-us%3A3 .
Please add your signature to the growing number of supporters. We are convinced of his innocence. He has been in prison since 1986 for a crime he could not have comitted.
---

May 23, 2020
Our dear friend Temujin Kensu, is once again spending his birthday in prison for a crime he could not have committed. This is his 57th birthday, he has been incarcerated since 1986. He is innocent, and that has once again been well demonstrated by the podcast, https://omny.fm/shows/undisclosed/state-v-fred-freeman .




To add insult to injury, he has now been diagnosed with Covid 19. The National Guard came to the prison and took blood samples from everybody. The disease is rampant throughout the prison. Temujin is strong mentally and is fighting the several challenges to his health. We cannot visit, as the prison is on lockdown. Phone time is very limited also.




Governor Whitmer has received many, many requests for his release and has been presented with the arguments for his innocence. She insists the recommendation for pardon come from the Parole Board. She can, by law simply pardon him with the stroke of a pen. That she will not, brings some very dark motives to mind. Money? Politics? We pray she does the right thing before it is too late.
---

May 5, 2020
The Undisclosed podcast series on Temujin aired last night with its fourth and final (for now) episode, "Yakusa", https://undisclosed-podcast.com/ . It is titled "The State v. Fred Freeman" (aka Temujin Kensu).
Featured is the bizarre testimony of Crystal Merrill based on Ninja movies, that was allowed into the trial. They also discuss a more likely suspect, who killed the victim, Scott Macklem, over drug debts.
Our congratulations to the team at Undisclosed for an excellent job of inv

estigating and presenting this incredible story. Hopefully it will inspire others to clamor for Temujin's release and return to freedom.
---
April 10, 2020
Message from Temujin Kensu

Dear Friends,

I hope you are staying safe out there.....

As I believe you know, things are REALLY bad in here regarding COVID and they are insanely exposing us endlessly to infected prisoners, moving them all over the place; no gloves, no aprons, no masks, etc. Many, many are sick -- FAR beyond what they are telling the public. Plus, I believe you know that I have multiple immune diseases, lung damage asthma and a cardiac history (all death sentences if you catch COVID). And I never smoked a day in my life! The damage came from 27 years of heavy smoke exposure in prison!

I am asking if anyone can soon pin down the Governor or AG's Office to get an idea if they plan to take any action on my case? If they aren't we need to know as soon as possible, A) because of the daunting risk of doing nothing, and B) because several groups and law firms have reached out to me about bringing a civil rights suit about all of this.

I also have further interviews with the BBC, Court TV, Undisclosed and several papers and I have been "politically polite" but they are all expressing 'disgust' at the complete lack of action on my case and the seeming indifference to both my innocence and my illnesses, not to mention old and sick inmates who present no threat to public safety and should not face an early death.

Can any of you help us get something definitive?

Thanks and please extend my regards to whomever is gracious enough to speak with you about these matters.

My very best,

Temujin Kensu
Editors note: Keeping an innocent man in prison for political reasons is evil. Should he (God Forbid) pass away it would be murder.
---
April 7, 2020
A podcast series of 4 episodes has just launched on "Undisclosed" https://omny.fm/shows/undisclosed/state-v-fred-freeman
The first episode details the witnesses who testified that Temujin was in Escanaba, MI , hundreds of miles from the crime scene. None was charged with perjury. He could not have committed the crime. Other witnesses also testify here that they were not called. They were suppressed. The series is well done and comprehensive in its search for the truth.
n.b. At the time his legal name was Fred Freeman. He since changed it to his Buddhist name Temujin Kensu.
As detailed b

elow, he is now in Covid hell. Many prisoners are ill now, and we fear for his safety.
---
March 30, 2020
It is our grave concern that Temujin and his fellow prisoners are now in a concentration camp with Covid 19. The Governor of Michigan has issued orders to release many inmates considered to be not a danger to society. While that is merciful and expedient, we fear it will not include him. His sentence is life without parole. Although many have been offering pleas for his actual innocence, those seem to have fallen on deaf ears. He is not a dangerous man. He would be welcome in our home and the homes of others. Please release him. He is innocent, the Convictions Integrity Unit and the Attorney General should know that by now.

His prison, Macomb Correctional Facility, currently has double digit numbers of Covid cases and climbing. Prisoners are confined to their cells with limited contact to the outside and no personal visitors. Hard time indeed. With his health concerns, he is in danger. To condemn an innocent man to be held in a disease ridden facility is unconscionable. May God have mercy upon the souls of those who conspired to convict him and keep him incarcerated all these years.
---
December 26th, 2019
The Detroit News lead article by Nolan Finley, "100% certain he didn't commit this crime", spells out the case for Temujin's innocence in no uncertain terms.
https://www.detroitnews.com/story/opinion/2019/12/26/finley-decades-prison-murder-he-couldnt-have-committed/2747498001/
December 24, 2019
Merry Christmas Temujin. Once again you are the political prisoner. Far as I can tell, damn near everybody with a brain knows you are innocent. But they can't let you out-just yet. Excuses, excuses while there you sit.
Wish you could be with us this holiday. Still proud to know you and call you friend.
---
November 21, 2019
Nothing has happened yet, sort of. There is now a Convictions Integrity Unit in the Attorney Generals Office. They have been getting organized and hope to have an application for review in place by December. We are hopeful that there will be a formal review for Temujin in the near future. Meanwhile he waits until the paperwork catches up. It is understandable that the political world wants the validation this will provide. We sincerely hope this does not become a bureaucratic quagmire.
It would be nice if he were home for Christmas- this year.
---

July 15, 2019

There is a rumor that Temujin Kensu may be released for time served. That just says we are letting you go. It says nothing about his innocence. This would serve the state by preventing him from suing for wrongful imprisonment. That would potentially save millions of dollars. He would not receive the million plus for the 33 years of his life lost in prison. He would be unable to sue those responsible. He would also be unable to vote and would carry the brand of convicted murderer for the rest of his life.

That would also avoid the embarrassing issue of why he was framed and why his many appeals were thwarted by a judicial system that should have protected the innocent. Who made the deal with the snitch witness, Phillip Joplin, who self confessed on camera, that he was given a sweetheart deal for lying? Who turned the case into a media feeding frenzy back in the 1980s, labeling him the "Ninja Killer"? Why was the jury sent home over the weekend to deliberate, when it was all over the news and the hottest story in town? How was the jury convinced to ignore the testimony of the many witnesses who swore he was hundreds of miles from the scene of the crime (none were charged with perjury). If he was indeed framed, who did it protect and more importantly, why? How were his many appeals over the decades dismissed for technicalities, while arguments for his actual innocence went unheard? Those answers would call into question the very many subsequent cases prosecuted and heard by those same authorities over the intervening decades. That would burden the judicial system and threaten reputations.

Whatever the decision of the Governor and the recommendations of the Conviction Integrity Unit, it will not be done in the dark. This website consistently receives the majority of its hits for Temujin per Google Stats. Most recently he received 55% of the page impressions. Interestingly, they come from all over the world; Amsterdam, the Hague, Amersfoort, Port Lewis, Ottawa, Utrecht, Chantilly, Beijing to name a few.

They are not all coming for the geometry articles.

The world is watching, Michigan.
---

Well those crazy cats down at the US Court of Appeals, 6th Circuit, did it again. On May 17th they issued what appears to be a rejection of reality in favor of the old boy network. If you have needed further reason to encourage the Governor and Attorney General to issue a pardon for Fred Freeman, read on.

You may remember that his latest Habeus appeal was rejected by Judge Bertlesman in Kentucky on less than reasonable grounds. Well, that irked his defenders, the University of Michigan School of Law Innocence Clinic, so they appealed it. Mind you, they don't take cases unless they are convinced of his innocence. If you have been following along, I'd bet you are too. Guess what, that appeal got rejected recently, May 17th. Wasn't signed by a judge, just a clerk.

The reasons given are rather bereft of any truth. I won't get into the details here. I'm reposting an excellent summary of the errors by Proving Innocence and another by Dave Sanders, a Private Investigator who has been supporting Freeman for many years. Both are posted with permission and links are below. Both show that the court really got it wrong. They can't possibly be that stupid.

What really irks me is what this says about the state of justice in our country. That's why we got into this case in the first place, to see if justice could be that screwed up. Ah, the age of innocence when we believed that only bad guys went to prison, except in some French novels. Remember learning how proud we were of "TRUTH, JUSTICE AND THE AMERICAN WAY OF LIFE". That is what we went to defend in our wars. That is what we held up to the world as a shining beacon of hope. That is why our brave military puts it all on the line, not some bull shit twisting of the system. How can we ask our troops to suffer hardship, injury and death defending this?
---


February 22, 2019
Hey Hollywood, here's a story for you.

Senior Judge, BOW, in his 80's, semiretired gets handed a case. It is an appeal that was originally set to be heard in Detroit. The powers that be realized the judges in Detroit had already determined that the guy was innocent. Let's call him TK. So, judgment would have probably gone in his favor. After all, there were numerous politicians, retired police and FBI and judges that knew he was innocent and could not possibly have committed the crime. There were however very compelling reasons to keep him in prison. It wasn't just the money. That would be well into seven figures compensation for wrongful conviction. TK had already been in the slammer for over three decades. If he was kept in a few more, he would likely die and the trouble would go away. Problem solved.

The real threat would be to the justice system itself, or better yet, the old boy network. So how did such an innocent guy get put away in the first place? Enter an ambitious prosecutor, WOW. Wow had lost a bid for election a while back and his reputation was smarting. Wow was handed a case with the potential to boost his ratings. It was a juicy murder in a small town in Michigan. Victim killed with a shotgun in a school parking lot. Media was all over it. Victim's girlfriend had a psychic inspiration that the killer was a guy she had a fling with earlier. The guy was a martial arts instructor who had ditched her.

Media starts talking to her and she tells them tales of TK's ninja abilities. Ninja movies were all the rage at the time, from 007 to Teenage Mutant Ninja Turtles. It was too juicy to pass up. Media starts a feeding frenzy, calling TK the "Ninja Killer". It's all over the news. Wow gets it. This is the jump start to his career. Girlfriend testifies her intuitions. A couple of people who had been at the other end of the parking lot were called as witnesses. They didn't see the crime and thought a car had backfired. They saw a station wagon leave the lot with a guy in it. Guy was described having a hat pulled down and full beard. Not much to secure a conviction. TK has witnesses that put him across the state, hundreds of miles away. Solid witnesses saw him within two hours of the crime and said so.

Looks like another embarrassing loss for Wow. So he brings in his personal pilot to testify. Pilot says TK could have gone to the local airport, hired a plane to fly him. No plane, no flight plan, nothing to corroborate. Not to mention TK was broke and on welfare. Case goes to the jury on a Friday. They are 7 to 5 for TK's innocence. Judge sees no need to sequester them, the media storm and all. Jury comes back on the following Monday and convicts. Big win, prosecutor gets gold stars on his report card.

So now it is decades later. Wow has gotten his big promotion to federal judge. If it comes out that TK was innocent all along it will raise some uncomfortable questions. Was this a setup? Would every case Wow handled in all those intervening years come into question? This could be a huge can of worms dumped onto the scales of justice. It could take years and millions to unravel.

Luckily Bow and Wow are friends from way back. Whatever Bow decides can do him no harm either way. He's too old to advance further in the system. It would take a decade for an appeal to prove he made a rotten decision. He has the opportunity to save a friend's reputation and put off a potential mess. So, he decides to reject the appeal for some very strange reasons. The reasons are best described as judicial fantasy. No matter, he and the system are insulated for another decade. By that time Bow will be in his 90's and Wow will be in his 80's.

Fade to prisoner TK in his cell. Last hope is a pardon. Leave the audience hanging.

So, Hollywood, what do you think? Too fanciful? Never happen in America?
---

February 8, 2019

We are delighted to have a new Governor in Michigan, Gretchen Whitmer and a new Attorney General, Dana Nessel. Both have expressed interest in addressing some of the wrongs in the justice system. We have heard the AG is setting up a wrongful convictions unit. Hopefully the case of Fred Freeman will be the top of the list of the cases they examine. It would be great if the State Police would launch a true investigation of this egregious miscarriage of Justice.

For our many foreign readers please let me clarify. Michigan is a wonderful state. It is beautiful, with numerous resources and opportunities. It is not a police state in any way. However, even in the best of worlds, misguided individuals can cause ripples that have far reaching effects. To preserve the freedoms we hold dear, such errors must be corrected. That is the mark of a truly free society.
---

December 30, 2018

Here is a new letter from Fred to his supporters.

To All My Friends and Supporters,

We saw yet another blow struck against justice in the denial of commutation not just for myself, but for others truly deserving of the mercy and protections that our constitutional government was created to provide; mercy and protections promised to us by the Founding Fathers who must be heartbroken to see what has become of their once great dream.......

Sadly, it is also exactly what we have come to expect from our failed system. Those of you familiar with the facts, know that my wrongful conviction and continued incarceration are not about "evidence" (for this is absolutely none against me), or "justice" (for there is no justice in any of this tragedy for myself, the victim or the people of this state and nation), nor is it about "truth" for the truth has always been on our side. It's about power, politics, money, favors and back room deals. This is how the system now operates and has for far too long unchecked and unashamed about it.

Had this happened in most other countries (and even most other states), I would long ago have been freed if only because of the incredible amount of time I have served. Here in Michigan, one can easily find hundreds of murder cases far more brutal, for which citizens served far less time and again, this is absent the fact of my innocence and the enormous outpouring of support.

There are elements of "vengeance" here; a "How dare you?" for my years of refusing to accept this travesty; retaliation for my 32-years-long and often successful battles to fight for civil rights both for myself and for others held in these dungeons, and my unrelenting quest to expose those heartless and corrupt bureaucrats who framed me and who have worked behind-the-scenes to keep the truth and justice from seeing the light of day.

But there is hope on the horizon my Friends! Michigan has been blessed with both a new Governor and a new Attorney General that are not beholden to the darker powers-that-be; women who are strong and brave and clearly committed to that same truth and justice!

Let us believe in them and support them and ask that they help us in our fight; a fight not just for me, but for all of us and, thus, all of you.

Thank you for standing with me, for your prayers, your thoughts, your meditations, your kindness and your unfailing friendship, and please, do not lose hope. I have not and will not!

Most Sincerely Yours,

Fredrick Thomas Freeman
(aka., Temujin Kensu)
---

December 27, 2018

Political Prisoner December 27, 2018

Fred Freeman's innocence is not disputed by any who have read the facts of his case without bias. He was railroaded pure and simple. Numerous dignitaries, former senators, judges, police and private investigators have said so. They, along with ordinary citizens, petitioned the departing governor of Michigan, R. Snyder, to pardon him. We are all quite disappointed that Snyder did not do so. He had nothing to lose politically as he is term limited and returning to private life. One can only wonder why. Like the poisoning of the children of Flint, his legacy is sadly tarnished.

Freeman's wrongful conviction thirty two years ago protected drug dealers and advanced political ambitions. We can only surmise that the continued efforts to keep him in prison were to protect both the guilty and the complicit. Untangling the web of corruption would prove very costly to the state in terms of both monetary compensation and personal reputations. It would be convenient to just let him die in prison. The current state of his health makes that a possibility. Without a doubt Fred Freeman is a political prisoner.
---

November 14, 2018

Beth Stier (who is now married and goes by Elizabeth Garofalo) is a very key alibi witness because she was with Fredrick Freeman in Escanaba just a few hours before the murder in Port Huron. She was pulled out of class at high school and interviewed after the murder and told officers she was on a date with Freeman in the late evening of November 4, 1986 and the early morning hours of November 5, 1986 (the date of the murder). This is a crucial Brady Violation because this absolutely essential alibi witness and her statements were never revealed to Freeman by the prosecution.

This was discovered by the remarkable investigator, Herb Welser. It is amazing that Herb found Stier and was able to interview her. Freeman had talked about being on a date with her but we did not have a correct spelling of her name and she had left Escanaba not that long after the murder, ending up in Pennsylvania.

Herb provided Stier with photos of Freeman around 1985 and she stated: "And the photos are definitely the guy I remember as Mickey and who I went out with a few times. My God, I feel so bad for him. I wish I had a magic wand to make it all better".
A big thanks to Herb and Dave Sanders of Proving Innocence for this incredible update.
How can Rick Snyder, the Governor of Michigan not pardon him? What does he have to lose by doing the right thing? Is this the Port Huron Cartel in action again?
---
September 15, 2018
State Senator Steven Bieda has added his voice to the growing clamor for Governor Snyder to pardon Fred Freeman. Senator Bieda writes, "...this is a case where justice was not done, and it is unfortunate that our state courts proved incapable of correcting the wrongful conviction once it occurred."
He continues, "... it is no longer defensible to ignore the moral impetus of situations such as this one."
I would add that delaying action because it is election season is also not defensible. That it may be embarassing to a current candidate is no reason to keep an innocent man in prison.
---
August 17, 2018
Here is another important endorsement for Fred Freeman's innocence.
It is from Jerry Hardesty, retired Police Lieutenant and President of the Michigan Council of Professional Investigators.
The Honorable Rick Snyder
State of Michigan P.O. Box 30013
You are in receipt of a July 25, 2018 letter from the Michigan Parole Board that hasn't been made public but recommends against clemency for Fredrick Freeman, Prisoner #189355. I am a retired Police Lieutenant and started my Private Investigations business about 5 years ago. I agreed to look at the Fred Freeman case and have worked on his case free of charge for about 3 years. I have experience in homicide investigations and forensics. I am also the current President of the Michigan Council of Professional Investigators and often attend meetings of the Michigan Indigent Defense Commission. (Thank you for your support behind this important commission).
I reached the same conclusion after my month- long review of the evidence in the Fred Freeman case, as did many other retired law enforcement officers who have reviewed and investigated this case. I won't list all of the wrongful acts that convicted innocent Fred Freeman, and has caused him to spend almost his entire adult life in prison. I will just reiterate this is THE worst case of wrongful imprisonment I have been witness to.
You have the ability and authority to right the wrong that our criminal justice system has failed to provide, freeing this innocent man. I beg your careful consideration.
Thank you for taking the time
Hardesty Private Investigations/President Michigan Council of Professional Investigators
---

August 14, 2018

Attached is a Letter from Senator Carl Levin to Gov. Snyder requesting clemency for Fred Freeman. Thank you Senator. He includes a letter he received from Michelle Woodworth reiterating her witness to being with Fred at the time of the crime, far away from the scene. She gave an interview saying the same thing last October. It is on YouTube and referenced below.

Please join him in asking Governor Snyder to Pardon Fred Freeman. It is the right thing to do, Justice has been denied too long.

---

"The darkest places in hell are reserved for those who maintain their neutrality in times of moral crisis". - Dante Alighieri

---

August 9, 2018

Pardon Fred Freeman.

Your action is needed to help Fred Freeman secure a pardon. The Michigan Primaries are over. The current governor, Rick Snyder, is term limited and will be leaving office. He has nothing to lose politically by granting Fred Freeman a pardon. Governor Snyder had supported Brian Calley, the Lt. Governor, to succeed him. The voters, however, favored the current Attorney General, Bill Schuette, who is not supportive of Fred's innocence.

Your action is needed now because the Michigan Parole Board has given the Governor an unfavorable recommendation on the request for pardon. The request was prepared by the prestigious University of Michigan School of Law and the Law Firm of Dickenson Wright. The many reasons they and we believe in his innocence have been detailed on this and other websites and presented in documentaries and TV shows.

Why the Parole Board chose to ignore his actual innocence is unfathomable.

If it is politics keeping him in prison, then he is a political prisoner.

Please contact the governor by phone or letter and respectfully ask him to do the right thing.

(You need not be an American or Michigan resident to do this.)

Pardon Fred Freeman.

Contact Governor Rick Snyder via:

Email:
Mail:

Governor Rick Snyder
P.O. Box 30013
Lansing, Michigan 48909

Phone:




---

August 6, 2018

Here are two new items for your consideration:

First, I talked with Fred last night. the Chief Medical Officer and Assistant CMO for the MDOC (Michigan Dep't of Corrections) had an extensive meeting with him. They agreed to fix most of his medical issues. This is great news as he has been suffering from a number of significant problems. Let's hope this really happens.

Second, The Parole Board has forwarded the request for a pardon to the Governor's Office. This was prepared by the University of Michigan and the law firm of Dickenson Wright on Fred's behalf. It is supported by a petition which many of you have signed. We do not know at this point what the recommendation is. We can only hope the Governor reacts favorably and grants it. After all, Fred is obviously innocent and the Governor is term limited. He has nothing to lose politically by granting a pardon.

Yes, he still has an appeal awaiting trial. That will take some time. And if found innocent, the State Attorney General will most likely appeal that to a higher court. That is what happened when Federal Judge Denise Page Hood overturned his conviction due to prosecutorial misconduct and ineffective trial counsel. (See the posts below from Oct 2010 and following.) That prosecutor nows sits on the same court. It is also why, I am told, the entire 6th District court in Detroit recused itself from the current appeal. The result is that he would spend many, many more years in prison until that sorts out.

_____________________________________________________________________

July 16, 2018

Fred will be transferred very soon. The judge has removed the temporary restraining order preventing the transfer of Fred Freeman to another prison. This is a huge disappointment. It means the Michigan Department of Corrections (MDOC) can now move him. This will make it much more difficult for his lawyers to meet with him. It will also make it more difficult for family and friends to visit, denying him moral support. It will also make it more expensive to transfer him back and forth to court appearances.

That is particularly irksome because it means that a prison can twist a law meant to protect prisoners into a measure to punish them. PREA, the Prison Rape Elimination Act was passed to make prison life more humane. Fred was not violated in any manner indicated by the complaint. He vigorously denies that he was. The complaint was entered by a staff dietician who he is suing.

It is beyond credible that this was not a conspiracy to transfer him out of MRF, his current facility. It is saddening that the court is supporting this chicanery. It serves no one to guess at the judge's reasons.

In a move that can only be described as retaliation, the MDOC is attempting to move Fred (Temujin) to another prison. Here is what I have been told.

There is a good law on the books called PREA, the Prison Rape Elimination Act. He is NOT being accused of violating it. A complaint has been entered by a member of prison staff against another member of prison staff citing Fred was the victim. Fred most vigorously says he was not the victim of anything. Never the less, it is being used as an excuse for transferring him. There currently is a restraining order preventing such a transfer.

You may remember that several years ago, he had a botched operation to remove a blockage in his colon. The result is that now he must use enemas daily. He laughing called these his douche bags. Several days ago he went to the prison medical unit. He jokingly asked the nurse for his regular supply of douche bags. She replied in a joking manner, "Here's your douche bags", as she gave them to him. A member of staff overheard this and entered a PREA claim with his name as the victim. THAT is the excuse for attempting to transfer him to another prison.

It is retaliation against him for his lawsuits against other members of the prison staff for blatant violation of his rights and damaging his health. They want to ship the problem out. His legal team is currently fighting this in court.

Below are points that Fred wrote to his attorney that gives more background on the negative effects of a transfer:

1) Separate me from the only Health Unit Manager who ever advocated for my care and who was still doing so.

2) Send me to another facility where they would (just as other prisons have) immediately CANCEL my few remaining details and accommodations, force me to "start all over" and assign me to a terrible provider who would not treat any of my issues, (usually claiming "it's just too much" or "they will only treat one thing"; my medical record shows them doing this dozens of times.) This will also force me to start all over with the kites and grievances (years' worth).

3) Take me away from my attorneys (when I am as close to them as I ever will be) to punish BOTH of us and to make it far more difficult to visit. Remind the Court how MRF has REPEATEDLY attempted to stop my lawyers from visiting and bringing in files. On one date, my lawyer had to sit in his car, having a conference call with the Court, the AG and the MDOC just to get into the prison with records!

4) Ask for a Protective Order covering transfers during this case as well as access to your client. Judge McKeague did this during Kensu v. Cason because the State kept moving me without misconduct for BS reasons. In that case he called 13 transfers "violative". I've had at least 10 more since.

---

July 1, 2018

Legal News Article on Temujin's case

http://legalnews.com/detroit/1460954/

"It's (the petition) being reviewed by a senior federal judge in Kentucky since the entire federal bench in the Eastern District of Michigan recused itself from the case," said Syed. "The prosecutor in Freeman's case is now a federal judge in (the) Detroit (district)," Syed added."

That's a big deal. It not only calls into question the motivation of the prosecutor, but also could open issues with subsequent cases. Let us hope it is not a matter of the convenience of keeping him in prison.

__________________________

May 18, 2018

Michigan Public Radio broadcast on Fred Freeman's (Temujin) innocence.

http://michiganradio.org/post/attorneys-say-fred-freeman-prison-32-years-innocent

It is an excellent summary of the case and advocates for his release. If you are considering signing the petition but needed more info, this may convince you.

There is still the question of why a scapegoat was needed and how he was chosen to be it? It was no accident that a bogus trial was staged amidst a media feeding frenzy. Why was the jury sent home over the weekend instead of being sequestered? He was all over the news and billed as the "Ninja Killer".

---

March 28, 2018

A Request for Pardon has been submitted to the Governor of Michigan

The University of Michigan Innocence Clinic and the law firm Dickenson Wright have submitted a request for pardon for Fred Freeman/ Temujin Kensu.

Read the press release and full application here.

Our most sincere hope is that Governor Snyder will look favorably upon it and grant freedom to this sorely aggrieved man.

You can help

Sign the petition started by Proving Innocence. You will find the Petition at https://chn.ge/2DZ4krf . Please post this link on your personal social media. Thank you.

(If your browser has trouble with this link, copy and paste, https://www.change.org/p/rick-snyder-support-the-pardon-of-fredrick-freeman-by-governor-rick-snyder )

Write the governor, asking him to sign the pardon. Please be polite and respectful. You need not be a Michigan or US resident. Justice is universal.

Governor Rick Snyder

P.O. Box 30013

Lansing, Michigan 48909

Email: governorsoffice@michigan.gov

---
Do You Think Anybody Will Notice? 17th of December, 2017
In an unusual move, the Chief Judge of the 6th Circuit Court of Appeals in Cincinnati has reassigned Fred Freeman's (Temujin Kensu) case from Detroit to Northern Kentucky. As you may remember, Judge Denise Page Hood found in his favor on a 2011 Habeus petition. That was overturned by the very same Court of Appeals on the basis that his lawyers took too long to file. Never mind his actual innocence. Rules had to be upheld. The statue of Justice was remarkably seen hitting herself in the head.
Now we have a change of venue. From my limited understanding, a change of venue happens because the judge recuses himself. That would be Judge Drain in Fred's case and he did not do so. It can also happen if the defense objects for cause. That would be the U of M Innocence Clinic and The Law firm of Dickenson Wright. They made no such request. The case should normally go back to Judge Denise Page Hood, who is now the Chief Judge in Detroit's 6th, and who already ruled in his favor once. Hmmmm?
So who is the lucky recipient of this case? Judge Bertelsman in Northern Kentucky. The Judge may be a fine man. He is now 80 years old and retired in 2001. He now sits part time and the hope is that there isn't a long line in his docket. Though, in all likelihood this will delay the game. What is worrisome is the why. Best guess so far is the concern over the political aspects of Freeman's case. That comes because of another judge siting at the 6th in Detroit. He was the original prosecutor in the case way back in 1986. He is the one who put Fred away in the first place. If Fred is found innocent (which he is), then there are some serious questions of malfeasance to be answered. Like, why was an innocent guy set up in a media feeding frenzy trial. Why was the jury sent home for the weekend with the case blasting all over the news. There is also the strong possibility that the murder was a drug hit, complete with a dirty cop. One source said it was for $5000. Should such embarrassing things even be brought up in polite society.
If that's not enough, I have been told that the defense has been prohibited from bringing up the following three matters at the new habeus trial in Kentucky:
A) That the main witness, Michelle Woodworth, was with him, hundreds of miles away, at the time of the murder. (See the interview, linked to YouTube, elsewhere on this site) She was 18 years old and frightened from testifying.
B) That Phillip Joplin, who was the main prosecution witness against him, lied when he testified on the stand that Fred told him he did the crime. Joplin says so in a videotaped interview with Bill Proctor, an investigative reporter. He says he was promised transfer from prison to a halfway house. He also said he was making this confession because his health was bad and he did not have long to live. He didn't want to die with that on his conscience.
C) The best yet, the defense should not bring up is actual innocence.
This would even be humorous except for the fact an innocent guy has been imprisoned for over thirty years of his life. So what is the state of Justice in America these days? We know it is not a perfect system, we are human and errors are made. How we rectify those errors is what defines us as a people and grants us favor-or not- in the eyes of the Divine.
Stay tuned, this comedy of tears continues.
---
October 16, 2017
Here is an interview with Michelle Woodworth.
She was with Temujin in ROCK, MI at the time of the murder in PORT HURON, MI, several hundred miles away. He could not have possibly committed the murder. Nine other witnesses placed him in ESCANABA, MI a couple of hours later. Escanaba is the nearest big town to Rock. Yet he was convicted and remains in prison. In what universe is this not a setup.

Yet the people pf the state of Michigan have been taxed to pay millions to incarcerate him and to thwart every appeal.
---
October 7, 2017
Several positive developments in Temujin's case have recently emerged. Note that Temujin is referred to by his given name of Fredrick Freeman in these documents.
First, the prestigious law firm of Dickinson Wright has joined Temujin's defense team with the University of Michigan, Innocence Clinic. Their expertise and legal prowess are a most welcome addition in this struggle for justice.

Next, you may recall that at the time of the crime, he was living in Rock, Michigan, a town closest to Escanaba in the upper peninsula. With him was Michelle Woodworth, who was pregnant with their son. When Temujin learned that the police were looking for him, he drove south to Flint, MI where the police said they were not. Shortly afterwards, he was arrested. Meanwhile, Michelle was alone when police from Port Huron showed up at their home. She was placed in the back of the police car, while they searched the house without a warrant. She was left in the car in the cold for hours while this went on. When they found nothing, they threatened her with jail and with taking custody of her baby. She moved back to the Port Huron area a short time later where police harassment continued. Her dog was taken and never seen again.

So there she was, a pregnant 18 year old on her own being terrorized for something she knew nothing about. All she knew was that Crystal Merril, a jealous woman with whom he had a brief fling, was accusing him of murder. Michelle was too terrified to appear in court, where she would have rightly testified that he was with her.

Here is the good news, they have been reunited after three decades of separation. She was located by a private investigator, Dave Sanders, who has never given up on Temujin. Michelle is now telling her side of the story and has had several interviews. Hopefully, those will become public in the near future.

And it gets better. What makes this particularly timely, is the recent decision by United States court of Appeals in Cinncinnati, OH. You may remember this was the court which rejected his previous habeas corpus petition. It had been granted in 2011, by Judge Denise Page Hood of the Federal District Court in Detroit. This ruling allows the District Court and now Chief Judge Denise Page Hood, to consider the new habeas petition. "Accordingly, Freeman's (Temujin's) motion for an order authorizing the district court to consider a second or successive petition is GRANTED as to his Brady and ineffective-assistance of-counsel claims." This means Temujin will now have another opportunity in federal court to find justice.

The justices of the appeals court go on to say:
"There was no direct evidence linking Freeman to the crime and Gobeyn and Krueger were the only witnesses to place him at the scene. Nine other witnesses placed him in Escanaba on the day of the murder. Moreover, Gobeyn's and Krueger's identifications were not entirely sound. Gobeyn's initial description stated only that the driver was a white male around twenty-five years old, and Gobeyn underwent hypnosis to aid his memory. Although he picked Freeman out at the physical lineup, he admitted to knowing two of the other men used in the lineup. And while Krueger also selected Freeman from the photo array, he did not pick Freeman at the physical lineup. In view of the evidence as a whole, Freeman's allegations, which are supported by "some documentation" suggesting that Gobeyn's and Krueger's identifications were based on an unduly suggestive identification procedure,"warrant a fuller exploration in the district court." end quote

What is worrisome is that the forces protecting the true killers do not want him found innocent. It would reopen the questions of why an innocent man was railroaded and why such efforts have been expended to keep the truth from emerging. At the time of the trial there was a media feeding frenzy over the man they billed as the "Ninja Killer". Such things are usually orchestrated. It made the case for innocence nearly impossible to sell. The jury was sent home for the weekend to deliberate- not sequestered- while the story was everywhere. Appeal after appeal has been frustrated by twisting the law to frustrate justice. If Temujin's habeus petition is granted, these same forces will again emerge to once again bind the hands of justice. He has already endured over thirty years in prison. That would result in his remaining in prison for several more years while the system stumbles to sort it out. To paraphrase George Freeman, "Just because something is a conspiracy theory, that does not make it necessarily false".
---

July 10, 2017
REWARD OF UP TO $50,000 IS BEING OFFERED.
---

June 28, 2017
The television channel, Investigation Discovery aired a program focusing on Temujin. It is a part of their series Reasonable Doubt Their investigators became convinced of his innocence and wrongful conviction.

ID is a cable channel. You can also see the show afterwards on their internet site. REASONABLE DOUBT Temujin Kensu

YouTube may eventually have the episode on REASONABLE DOUBT Temujin Kensu at some future date.

We have detailed the many reasons we are convinced of his innocence on this site. However, we have been at this for many years and those details may have become somewhat buried in the stacks. The documentary,"JUSTICE INCARCERATED" does an excellent job of telling the story.

Here is another, it is the Habeus Corpus petition prepared by the University of Michigan Innocence clinic for his 2011 hearing.

That hearing resulted in a judgement in his favor which was later oveturned by a federal appeals court. Reversal here.
Note that Temujin is called by his given name Fredrick Freeman in these documents.

Here is an extract:
HABEUS No. 10-2419; 10-2420
SUMMARY OF THE ARGUMENT
The district court correctly concluded that Petitioner Fredrick Freeman presented a compelling case of actual innocence and that his claims therefore should be considered despite procedural default and statute of limitations bars. The evidence of Mr. Freeman's guilt at his trial was exceedingly weak and consisted of a jailhouse informant, who was contradicted by the only other man in the cell, and two eyewitnesses, one of whom identified Mr. Freeman only after being hypnotized and turned out to be wrong on other key details and the other of whom picked out another man from the live lineup.

The evidence of Mr. Freeman's innocence at trial was extremely strong, consisting of some ten disinterested witnesses who all positively confirmed that they saw and spoke with Mr. Freeman in Escanaba within a few hours of when the shooting occurred in Port Huron, more than 400 miles away. This evidence of innocence was so strong that the prosecution was forced to advance a theory in rebuttal, that perhaps Mr. Freeman chartered an airplane, without any evidence to support it.

Mr. Freeman presented new evidence, including: (1) sworn testimony and videotaped statements from the jailhouse informant admitting that he lied at trial both when he claimed he had received no assurances of leniency for his testimony and when he claimed Mr. Freeman confessed to the murder; and (2) sworn affidavits from Michelle Woodworth, Mr. Freeman's ex-girlfriend, who confirmed she was with Mr. Freeman near Escanaba at the precise time the murder occurred in Port Huron and was ready to so testify at trial. Given the weakness of the original case, the district court correctly found that no reasonable juror would convict Mr. Freeman in light of the new evidence.

The district court correctly granted the writ on the ground that Mr. Freeman's due process rights were violated when the prosecution allowed the jailhouse informant to falsely tell the jury that he received no assurances of leniency for his testimony and that he had not even discussed his testimony with police or prosecutors beforehand. The informant's subsequent testimony and recorded interviews confirm that detectives and other state actors involved in the case had given him assurances of leniency, which he subsequently received, and had helped prepare his testimony.

The district court also correctly found that trial counsel was ineffective for failing to present Mr. Freeman's ex-girlfriend to confirm that Mr. Freeman was with her in Escanaba at the moment the murder occurred over 400 miles away, thus rebutting the prosecution's "chartered airplane theory." Appellate counsel was also ineffective for failing to litigate trial counsel's ineffectiveness even after the state trial judge found that the missing witness' testimony would have been critical and that trial counsel had failed to use due diligence to present that testimony.

The district court was also correct to hold that trial counsel was ineffective for obstructing Mr. Freeman's right to testify. Contrary to Respondent's assertions, Mr. Freeman has complained of this obstruction for more than twenty years.

Respondent has failed to advance any colorable argument as to why the district judge should have recused herself. That another district judge prosecuted this case decades ago is, standing alone, insufficient to require recusal.

The district court should also have granted habeas relief because trial counsel's drug and alcohol addiction rendered him ineffective. The record demonstrates that trial counsel was sometimes incoherent and that he often failed to object to obviously incompetent evidence used to prejudice his client.

The district court similarly should have granted relief because Mr. Freeman was repeatedly displayed to the jury in jail clothing and shackles. No justification was ever given for displaying Mr. Freeman to the jury in restraints, and the effect was highly prejudicial, especially given the weakness of the prosecution's case.

Finally, the cumulative effect of all of the errors in this case denied Mr. Freeman a fair trial. Given the weak evidence of guilt and the powerful evidence of innocence, the errors taken together would merit relief even if individual errors would not.

End of Habeus summary.

REVERSAL

The appeals court reversed the Federal District Court and here is an extract of their opinion:

"The court's function is not to make an independent factual determination about what likely occurred, but rather to assess the likely impact of the evidence on reasonable jurors." This standard is demanding and permits review only in the "extraordinary case." ... The petitioner's burden at the gateway stage is to demonstrate that "more likely than not, in light of the new evidence, no reasonable juror would find him guilty beyond a reasonable doubt."

This teaching highlights the deficiencies in the district court's explanation of its analysis.
The district court permitted Freeman to pass through the gateway to argue the merits of his claims without first considering all the evidence and making "a probabilistic determination" that Freeman was "factually innocent"-that is, without first requiring Freeman to demonstrate that, more likely than not, no reasonable juror would have found him guilty beyond a reasonable doubt.

End of REVERSAL summary.

I am not a lawyer, just an ordinary citizen concerned about what I see is a miscarriage of justice. It seems that justice has gone awry in this country. We jail a disproportionate number of our citizens. Juries do make mistakes and prosecutors can be over eager. This case in particular was a media circus. That spotlight put a lot of pressure on all parties concerned at that time.

Now is not then. At what point does reason take over and say, "He could not have committed this crime, let him go". Are there other factors at work- reputations, money, politics? I do not know.

There is Justice and there is the Law. There are also the scales of balance and right now, in this case, they serve neither.
Mike Mongan
---

A holiday message from Temujin

December 23, 2016

To All My Wonderful Friends and Supporters:

Greetings and Blessings to all of you in this Holiday Season and best wishes for the New Year. Thank you for all that you have done and all continue to do so very selflessly for the less-fortunate.

Let us pray that this is the year in which we effect real change, both in the world around us and within ourselves. Let us put off past dissensions and disputes and agree that our important goal is the betterment of mankind and his condition and that, to achieve this, we must be united in cause and committed in purpose.

New Years brings new hopes and dreams, but too often we let them slip through our busy fingers to be relegated to "the future". The time for reformation is now and I am sure there are many, many points upon which we can all agree. Among these are the need for justice for all, big and small, blessed or destitute, as well as our obligation and duty to move both heaven and earth, doing whatever we can to eradicate as much suffering, sadness, and injustice as humanly possible during our own lives.

May you and yours know every possible blessing and may none want in the slightest for food, comfort, love, safety and freedom.

In the Holidays and with Great Faith,
Temujin Kensu
---
December 13, 2016
(From Dave Sanders, Project Inocence) To All,

Investigation Discovery will be airing Temujin's episode sometime in February. They have also promised they would do a social media campaign for him as well as employ another investigator to look for anything that may help with exoneration. Here is a recent message to me from Chez Pazienza, the Producer:

"The social media campaign is something the network will be putting together as it begins ramping up promotion for the show. My team is working on an investigator, which will again be easier once we begin airing but we're still putting all our effort into it as a prelude to the season.

Our team will shut down in the near future because our shoot dates are over, but we're trying to put a system in place now that will continue to try to help during our down time".

I don't believe Santa will be visiting Temujin but for anyone wishing to send a holiday card his address is above.

Also the Flint (Michigan) Journal published an article, Dec. 7 by Dominic Adams about the upcoming show (no link available).
---
Here is a recent photo with Mike and Dorothy. Temujin looks healthier now that some of his dietary needs are being met.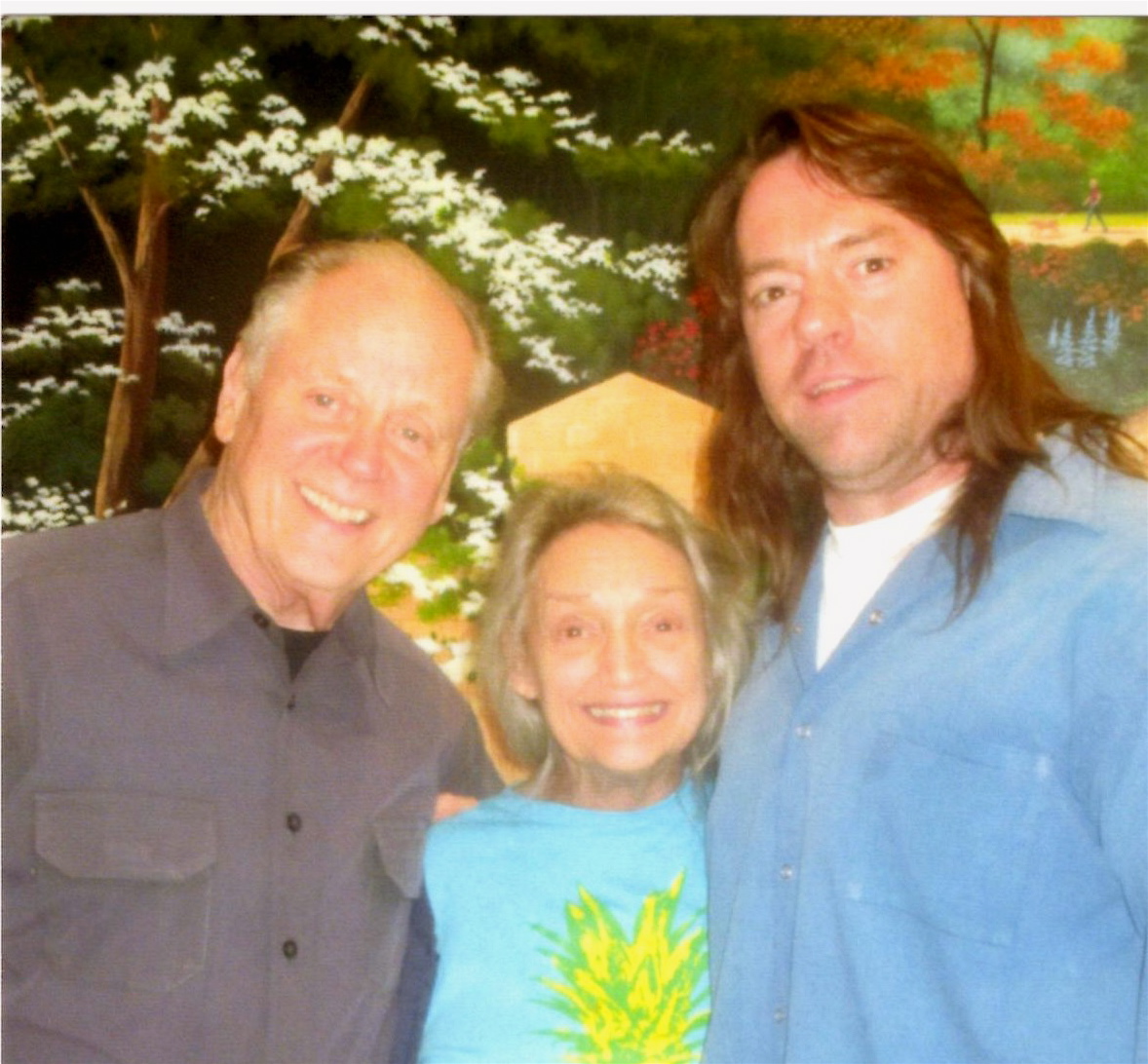 ---
Temujin has also recently written Governor Rick Snyder in reference to his recent court awards (see Mar. 29th below). The state is spending a lot of money to avoid paying the monies awarded by a Federal Court. Temujin has offered to settle for less and cancel the upcoming similar suit if he is granted the care he needs. Seems like a reasonable win-win deal. We are eagerly awaiting to see if intransigence or common sense wins out.
---
October 8, 2016
The Michigan Supreme Court's Decision is to not decide
Here is a link to their opinion.
Thank you to Justice Bernstein for wanting to hear what the defense had to say. Justice McCormack had represented Temujin previously and had to step aside. Essentially they are saying they aren't interested in hearing the arguments of the prestigious University of Michigan School of Law. Nor did they want to be bothered by the opinion of Denise Dysert, John Jay College of Criminal Justice, NYC. She is a recognized expert on photo lineups. Her opinion has been honored by this court many times in the past and she is nationally recognized. The cheap ass photo lineup would have a schoolchild pointing him out.(my words)

So then comes the question of why not. Too busy to bother with this disgraceful travesty? It would be easy to launch into some big conspiracy, but come on. Five 5 Supreme Court Justices needing to make a golf tee time. No, I don't think so. To decide in his favor would open up a can of worms. Questions would arise- the same ones we have been harping on- about the clear railroading of Temujin when he could not have committed the crime. It would imply that other cases might have to be looked at and that could open a floodgate. Perhaps what they need is a way to say that he is innocent without saying anybody did anything wrong in framing him.

Temujin is not discouraged. We talk with him often and visit when we can. His spirits are good. He knows that U of M is already working on the next stage. And Discovery channel believes in his innocence and will be continuing their TV expose. And that there is now new evidence proving that the deceased was killed elsewhere and his body dumped in the parking lot. Which evidence, of course, blows the prosecutors bullshit lies out of the water.

We are heartened by a saying learned in school, "The wheels of God grind slowly, but they grind exceedingly small".
---
September 20, 2016
Two new exciting developments.
First, Discovery Channel is doing a show on Temujin. They believe his conviction is the worst case of mishandled justice they have seen. They are in production and the show will most likely be aired in January '17.

Second, There is a new page on Facebook devoted to this case, It shows new evidence for Temujin's innocence. It makes a reasoned argument why the victim was not shot in the parking lot. According to the theory, he was shot elsewhere and the body dumped by his parked car.

The crime scene was not properly secured. The lead detective, John Bowens, was a narcotics officer. He just been reinstated after getting busted in a sting operation in a neighboring state. Even though the Port Huron Police Dep't had an experienced homicide detective, Bowens was given the job. He had never handled a murder case before. The attorney who got Bowens reinstated was David Dean. This lawyer has since been disbarred.

Dean was also the attorney for Temujin. When Temujin was in jail, Dean was recommended to him as his defense attorney. Temujin never suspected he was being set up to take the fall.

Temujin has now been in prison for 30 years for a crime he did not commit. Will the Michigan Supreme Court do the right thing and overturn this travesty? That remains to be seen. Two of their recent exonerations directly relate to Temujin's case. We sincerely hope that has cleared a path.

There is more new evidence, but I am under a nondisclosure agreement and cannot reveal it here. Stay tuned.
---
July 1, 2016
Temujin has been receiving attention from several major media sources. They believe he is innocent and you will hopefully be able to view their work in the near future. One source said that out of all the innocence cases they have reviewed, his is the most blatant abuse of justice.

He is doing well and still at the address above. He would love to hear from you, please write him.

As we have said so many times before, he is innocent. Many other responsible people have said so also. The big question is WHY DO THE AUTHORITIES KEEP DODGING HIS INNOCENCE. It is maddening that he is kept in prison for a crime that he didn't commit because of some stupid ruling on technicalities. Could it be that it was a drug related murder in a border town? Are people in positions of power fighting to keep the truth suppressed? Who the hell is being protected? It certainly is not the citizens of Michigan.

And the taxpayers keep paying their salaries and the salaries of the prison-industrial complex.
---
March 29, 2016
SOME GOOD NEWS
Temujin had sued Michigan Department of Corrections Health officials, seven in number, for the abuse suffered at their hands. If you are a follower of this webpage, you know of his suffering from many of the stories below. He sued under the 8th amendment to the constitution preventing cruel and unusual punishment. The trial started last Monday, 3/21/16 in the courtroom of Federal Judge Victoria Roberts in downtown Detroit, Michigan. The jury was sent for deliberation yesterday, and returned a unanimous verdict in his favor. He has been awarded a considerable sum of money in punitive and compensatory damages. This award will allow him to pay for his own medical treatment. Hopefully it will reverse some of the damage done to his body.

We are indeed delighted for him. Our hope is that this will also bring some relief to many of the other inmates who are suffering. Temujin is a very intelligent man who has used his time in prison to educate himself in the law. Many others are not so able to assist in their own defense. You know we unequivocally proclaim his innocence and have done so for decades. From recent news, you must be aware there are many other innocents imprisoned as well. Consider the hell of being innocent and abused by medical practitioners. Even the truely guilty deserve proper care.

His lawyer, Solomon Radnor, is to be commended for his sense of justice and willingness to take on this case. Additionally, thanks to the jury of 4 men and 4 women who unanimously ruled in his favor. Their close attention to a week long complicated trial is much appreciated. A large amount of the credit for the victory goes to A'Miko Kensu, his deceased wife. Her tireless efforts on his behalf paid off. She sent numerous emails and collected many of the documents used as evidence in his case. She must be smiling in heaven right now.

The appeal of Temujin's criminal conviction still rests with the Michigan Supreme Court. We are hopeful of a positive decision soon on that as well.

This case did not include the disastrous treatment he received at the Gus Harrison Facility which very nearly cost him his life. A state which would poison its children to save a couple of bucks is capable of going cheap and getting even with its prisoners.
---
October 11, 2015

TEMUJIN IS INNOCENT

When so many believe in his innocence and there is no evidence against him, why then is Temujin still in prison? The reasons given have had nothing to do with guilt or innocence, merely procedural rules which endlessly bubble up to defeat justice. It has been nearly 30 years now. His original trial was a publicity show. A federal judge said as much in October of 2010 when she overturned the verdict. That was countermanded by a federal appeals court on procedural grounds with no regard for the justice of the case.

That scene was re-enacted again when the state appeals court ruled against him. One of the three appeals judges did agree that the original trial was flawed. He said the 2010 federal judge's decision overturning the conviction was not in error and should not have been reversed by the higher court. But justice once again stays chained to procedure. Now a brief has been filed with the Michigan Supreme Court to once more seek justice. We can only hope.

If you are new to this issue, here is a brief synopsis. In 1986 a young man was killed with a shotgun in the parking lot of a community college in Port Huron, Michigan. There were no witnesses to the crime. It was a morning and most students were in class. The police arrested a young man for the crime. It became hot news, he was billed the "Ninja Killer". He was in all the media for the circus. Problem was, he did not know the victim and had no reason to kill him. At the time of the crime he was attested to be in Ecanaba, in Michigan's Upper Peninsula, several hundred miles away. The prosecutor, now a federal judge, secured a conviction by proposing that he had convinced a local pilot at the Port Huron airport to fly him back to Escanaba. No flight plans or any substantiation was ever offered. His public defender was coke head alcoholic who did a miserable job defending him. He was sentenced to life without parole. There is much more detail below and the documentary covers the facts well.

We adopted him as an innocence project in 1999. We met him on a religious matter and became acquainted with his story. His then lawyer and a private investigator verified for us that this was a miscarriage of justice. We found it hard to believe that the American judicial system could be so poor. We still respect the police, judges and all who honestly and fairly strive to keep order in our society. But all is not well.

So now it is in the hands of the Michigan Supreme Court Justices. We sincerely hope that they see through the shroud of bureaucratic balderdash and rule for justice. His defense team is still the highly regarded University of Michigan, School of Law, Innocence Clinic.
---
August 3, 2015
The Michigan Court of Appeals has issued its decision and it is not favorable to Temujin. What a sad day for justice. There are tears beneath her blindfold.

Judge Shapiro, reluctantly concurring with the others, wrote separately:
"I reluctantly concur with the majoritys affirmance of the trial court's denial of defendant's motion for relief from judgment. Defendant's only claim before this -that the newly discovered original photographic lineup shown to eyewitnesses required a new trial-,while not wholly devoid of merit, is insufficient to warrant relief under the standard for a successive motion for relief from judgment under MCR 6.500 et seq.

I write separately because, after reviewing the record, I conclude that defendant's trial was flawed in several respects and that the United States District Court for the Eastern District of Michigan did not err in granting him habeas relief."
His full statement can be found here. Judge Shapiro's remarks"
We thank the judge for his candid opinion. The official judgement can be read here. Appeal Court Judgement"
---
A New Letter From Temujin, Received from David Sanders of Proving Innocence, July 13, 2015

Dear Friends and Supporters,
I would like to express my sincere and deepest gratitude to the Michigan Court of Appeals for the oral arguments hearing they granted us on June 2, 2015 and their fair consideration of our position. Obviously, we are hopeful that the Court will agree that the issues we presented do merit the reversal of the wrongful conviction that has resulted in my nearly 30 years of incarceration for a crime that so many in the criminal justice system and law enforcement community have come to understand as tragic and a great injustice.

Of course, we understand and accept that even if the Court does grant the appeal, my freedom or justice is not immediately assured. St. Clair County will surely appeal to the Michigan Supreme Court. However, at the hearing many of us were disturbed by deliberate deceptions in Port Huron's brief.

For example, the county brought up before the Court the jacket they found in my girlfriend's home as an indication of my guilt when they knew that it was not mine and admitted at trial that the jacket was dirty, had not been washed, and contained no nitrite-gun powder residue (gun powder residue would have been on the jacket if it was worn while the shotgun was fired). Further, this jacket no way resembled the suspect's unusual puffy green ski jacket mentioned by a witness. It was in fact an absolutely normal, completely unchanged and unmodified Army Field Jacket. Not to mention the fact that one witness, Richard Kruger, testified that the suspect was not wearing a normal military style coat.

Also, the sad truth is that county prosecutor once more attempted to mislead the Court to try to reinforce the testimony of the hypnotized witness Rene Gobeyn's testimony that changed multiple times. The fact is that Gobeyn actually saw no crime and his testimony conflicted with the honest, detached witnesses in the parking lot. At trial Robert Marvich, who was with Gobeyn at the critical moment in the parking lot where the crime occurred, contradicted just about everything Gobeyn supposedly saw and did.

Then there is the fact that Richard Kruger was never actually a witness. The prosecutor has long relied on the confusion about Kruger. In truth Kruger was never in the parking lot where the crime occurred. His suspect was some guy he claimed he saw an hour earlier in a completely different lot. Why would the suspect be walking around in a different lot when the suspect was supposedly in a car an hour later by the victim's car?

There are so many other facts that prove I could not have committed the murder, including documents and testimony from nine witnesses that prove that I was in Escanaba in the UP when the crime occurred in Port Huron. In fact, I was in Escanaba with my disabled Mercury 4 door Marquis, hardly the alleged suspect vehicle that Gobeyn identified in his changing and false testimony as a Mazda or Datsun or Ford Escort station wagon.

I also want to extend my undying gratitude to the Innocence Clinic of the University of Michigan and all its many wonderful attorneys and student lawyers who have so graciously defended me in the long, often heart-breaking struggle for justice. Many thanks to Caitlyn, Dave, Imran, Mary Soo, Erika, Matt, and so many others as well as new staff such as Dominque and, of course, Jennifer!

Thanks also goes to the members of Proving Innocence who have been there all the way: Dave and Bonnie, Bill and Kate, Ross and Jo, Greta and Marvin, Pat and Jerry, Bill, Herb, Ken, John, and Michelle as well as my many well-wishers, supporters, and friends whether in person or just in spirit (Mike, Dorothy, Dean, Eddie, Tetshin, Khaya, Joe, Barry, Eric, and more).

I also appreciate the members of the media who have been fair and thorough over the years (though more coverage is always appreciated).

Thanks and blessings to all our viewers on YouTube who were shocked and educated by watching Dean's documentary, "Justice Incarcerated"

Know that you are all loved and appreciated. Let us pray that justice will prevail and believe with all our hearts that it will be so.
In Friendship and Fellowship,

Temujin Kensu (aka Fredrick T. Freeman)

PS. Please know how very much this would have meant to A'miko. She loved all of you very much.

Proving Innocence also has additional information on their website, Temujin Kensu
---
March 18, 2015 Letter from Temujin
Greetings and blessings within the Supreme Law to everyone reading this, be you friend, follower, supporter or just inquisitive. I have been transferred from the MDOC (Michigan Dep't of Corrections) hell hole, otherwise known as ARF to the ECF where the staff have been nothing but polite, respectful, professional and fair- the complete opposite of ARF.

Wonderful progress has been made by the incredible people at the University of Michigan Innocence Clinic on my appeal. I am blessed to have such an amazing defense team, as well as such amazing friends and supporters. Please know that I love and appreciate each and every one of you.

It has been an arduous, painful and difficult road since the loss of my beloved A'miko in November of 2012. I have been buoyed through this by all of you who have offered our kind thoughts, words and deeds on my behalf. Thank you so very much for this.

Believe that this struggle is one that we wage for the millions around the world who continue to suffer injustice in all its varied and ugly forms. Have faith, for we will be victorious, vindicated and justified in our efforts for this noble cause.

Feel free to write me at the address on the website.
Yours in Camaraderie and Friendship,
Temujin Kensu
---
Feb 20, 2015
Temujin has been moved to another facility. We are relieved and hope he continues to be treated fairly. No further word on the progress of his appeal.
---
January 3, 2015
We visited Temujin in the prison hospital during the holidays. His bowel blockage has not been healed. The operation had little effect, even after removing an impassably twisted section of the colon. We heard incidentally, that his prison is fining him $15,000 for a self inflicted injury. His surgeon had a good laugh at that one.

We haven't had a call from him for over a week. That probably means he was sent back to solitary at the Gus Harrison prison. Happy New Year.

The good news is that his unrelenting defense team from the University of Michigan is ready to file a response to Judge West's ruling with the Court of Appeals. Maybe he will get justice-if he lives long enough.

January 7, 2015 Update, Temujin has returned to the hospital for further treatment.
---
November 16th, 2014
Judge West did issue an order and opinion. The article in the Port Huron Times Herald can be found here. We are disappointed but heartened that his defense will appeal. Unfortunately, Temujin still is in a prison hospital.

Temujin did call in the evening. He was not disheartened. The ruling was as expected and the defense team is ready with the appeal. It just means waiting longer for justice and freedom. He sends his thanks and best wishes to his supporters.
---
November 15th, 2014
Eight (8) months and counting. This would be silly except that Temujin is being punished. He had no violations on his prison record when he was sent to the Gus Harrison facility. He has been written up many times there for such things as brushing his teeth in his cell. He was put into solitary, where he developed a lung infection that sent him to the hospital. He has developed chronic bowel blockages that required surgical removal of a foot and a half of his colon. We haven't heard from him for a while and hope he is doing ok. All of this in the few months since the hearing. He wasn't doing well when we talked last week. We cannot call in.

Sorry if this is sounding conspritorial. It is not meant to be. The judge should not be accused of delaying the decision for this. The heavy hand is most likely because Temujin is suing the responsible agencies for poor diet and having no access to health supplements that we on the outside take for granted. Those lawsuits are doomed anyway. His lawyer, Andrew Stacer, abandoned the case without explanation. Most strange. They would have benefited many.

I have no idea why the judge is incapable of rendering a decision.

If only Fyodor Dostoyevsky was alive still to write this novel.

October 1st, 2014
It has been over 6 months since the March Hare-ing. Still no decision from the judge. Question comes to mind, why so long? This is not a major legal precedent, that was determined years ago in the Brady ruling. The case was sent down from the Appeals court to determine yes or no, violation or not. Maybe, just maybe, it is the politics. Maybe, just maybe, a higher court should rule. After all, if the judge can't make his mind up in 6 months, how many more years is it going to take for a little justice?
---
June 27th, 2014 Update
Temujin has been moved to a less desirable facility. Less desirable because of the high level of violence. This is most likely a retaliatory move for his lawsuits against the MDOC over inadequate medical care and poor dietary choices. Last I heard he is winning those.

If you have written him and have not heard an answer, it is most likely that the letters were withheld from him. He would really love to hear from you and will reply if he gets them. Be sure you include his prisoner number.
They recently held a letter from me with some religious information I was sending him. That was reversed the day before his transfer. He hasn't seen it yet.
Nothing to report on the March Hare-ing yet. Judge West's decision is still pending.
---
March 17th, 2014
Justice Theatre 2014
We attended the March Hare-ing for Temujin last week. The state always uses his given name, Frederick Freeman, just to clear up any confusion. He changed his name to Temujin Kensu while in prison to reflect his religious beliefs.

I do not envy any judge his job, nor do I intend any disrespect by calling this "Justice Theatre". I have been involved in amateur theatre for over 30 years and have directed many plays. I could not help but be struck by the similarities. If you would like an unbiased view of the proceedings, Beth LeBlanc of the Port Huron Times Herald did a fine job of reporting. Her articles on the events of Wed, 3/12 and Thurs, 3/13 can be found at these links:

Article covering Wednesday's Hearing.

Article covering Thursday's Hearing.

There is a rule in the justice system that once a matter has been brought forward in a trial or appeal it cannot be re-introduced. The only basis for opening a trial or appeal is new evidence. Thus, no matter how flawed prior work may have been, over is over. My perspective is a bit more biased.

Let me set the scene. Wednesday, March 12th, was as you may remember, the blizzard from hell in the northeastern states. The world was blowing a sideways whiteout and snow was getting deep. The courtroom of Judge Michael West has an outside wall with large windows so we were able to enjoy both the shows, inside and out. From the visitors church bench seats, the prosecutor, Mona Armstrong, was to the left. The defense team was to the right. It consisted of three lawyers headed by David Moran and three student lawyers assisting. They are from the prestigious University of Michigan, School of Law, Innocence Clinic. They have been his defense attorneys for several years now.

Temujin was brought in before the judge entered. Brought-in is a mild term. He was in prison garb and shackled about the feet and waist. His cane had been taken away. (He uses a cane since a tendon in his leg separated last year.) They considered him a "flight risk". He was accompanied by many armed officers of various jurisdictions. I counted seven in the beginning but it doubled to fourteen a few hours later. Yes, they were all armed. Yes, they casually rested their hands on their pistols. And they were positioned at all vantage points so that if any of us scratched a nose, a hand would shift a holster. All those bodies blocked a lot of the sound and I had to strain to hear. I think I got most of it. The director in me marveled at this. I couldn't have staged it better myself. I just wondered, who was supposed to be intimidated? We the audience? Certainly we had no intention of trying to bust him out, no more than he would have if we could have. After all this was a hearing that will eventually lead to his freedom- we hope. Oh, and my wife, Dorothy and I are in our 70's and she walks with a cane also. Being regarded as a possible threat is just as good as getting carded for a senior discount. Oh, and Dean Mongan was with us also, son and film maker of "Justice Incarcerated". He's so dangerous the prison officials managed to lose his media accreditation and he could not visit Temujin in the slammer. You know, pen beats sword, movie covers pen.

This hearing came about when Herbert Welser brought forward the original photos used for the witnesses identification. Mr. Welser is a retired Port Huron Police Detective Inspector, now Private Investigator. He found the photos in an evidence locker. The defense was made aware of them through the efforts of A'Miko, Temujin's deceased wife, and Bill Proctor a former reporter, also now Private Investigator. Mr. Welser had been involved in many photo lineups in his career and had assembled a good number of them himself. He's an expert. But I'm getting ahead of myself.

The Supreme Court of the State of Michigan was given the evidence. It was questionable that his attorney in 1986, David Dean, was ever aware of them. The nature of the photos made Temujin stand out from the other four markedly. This is a violation of the Brady disclosure rule. To quote Wikipedia, "Brady disclosure consists of exculpatory or impeaching information and evidence that is material to the guilt or innocence or to the punishment of a defendant."
Wikipedia article on Brady.
It says you are entitled to see all the evidence used against you. Any responsible lawyer who was aware of them would have moved for a mistrial. So, the Supremes sent it back to the lower court to determine if in fact this violated Brady disclosure. Was his attorney, David Dean, aware of these photos at the time of the trial? The photo lineup shown to the jury during the trial was markedly different. That would have been misleading and would call for a new trial.

Ms. Armstrong did her best to assert that his was not a hearing on Brady, but that is what the Supremes seemed to want. The defense wanted to introduce testimony that the photos were disappeared for many years, despite numerous calls for their examination. Judge West narrowed the field down for both parties. He said it did not matter if they were not available for the appeals, the question he had to decide was whether or not they were available for the original trial in 1986. Nor did he allow any testimony that was not directly related to the original trial. This removed Bill Proctor from the witness box as he wasn't at the original trial. It also precluded Allen Woodside from testifying. Woody was the original private investigator who first brought the case to Proctor's attention. Proctor, then an investigative reporter for a Detroit TV news station, televised several segments asserting Temujin's innocence. Woodside and Proctor had secured evidence that a snitch witness, Phillip Joplin, lied on the witness stand. Joplin said so on camera and in writing. He said his health was bad and he didn't want to die with this on his conscience. But of course that didn't relate to the photos so it didn't count. A couple of other attorneys who had represented Temujin in the past were similarly rendered irrelevant.

Welser was allowed limited testimony as to the practices of the police department at the time. Temujin's photo that is in question was taken by the Pleasant Ridge Police Department a couple of years earlier on a minor dispute. It is obviously an arrest photo. The defense called an expert witness, Jennifer Dysart - PhD. She is Associate Professor, Dept. of Psychology, John Jay College of Criminal Justice NY, NY. She has done considerable research on witness identification. Dr. Dysert has testified in a hundred or so other cases and is generally regarded as an expert in her field. Her view was that the difference between Temjin's photo and the others were so significant as to bias a witness towards picking him. There were two such witnesses. One had been hypnotized and came up with a license plate number that was totally unrelated. The second had picked another man out of a physical lineup. Dr. Dysert explained witness bias. This is when a witness has made an identification, there is a very strong chance he will validate his choice in subsequent identifications- even if wrong.

Since this matter revolved only around those particular photos, no testimony was possible regarding the many witnesses that placed Temujin in Escanaba, Michigan, several hundred miles away, within two hours of the crime. Nor were those witnesses ever charged with perjury.

The most notable testimony of the day came from Federal Judge Robert Cleland. He had been the prosecutor on this case in 1986 but now sits on the federal circuit bench in Detroit.
This is the same court, by the way, that another federal judge, Denise Page Hood overturned Temujin's conviction on the grounds of prosecutorial misconduct and inadequate defense, October of 2010. That case was sent to the Federal Appeals Court in Cincinnati at the request of the Michigan Attorney General. Judge Cleland sits there as a visiting judge from time to time but was not a part of that ruling. Judge Hood was overturned on a technicality in May of 2012. (qv the posting for May 18, 2012 below.)

Judge Cleland testified that he probably had seen the original photos since he had ordered the poster board that was shown to the jury. That poster had the five photos in a row, enlarged, with differences and prisoner ID's removed. That was shown to the jury as the identifying lineup. Judge Cleland explained that many things happen in the rush to prepare for a trial. In my opinion, there are a lot of bad guys that the justice system tries to protect us from. The good guys do have their work cut out for them. And this was a media event at the time, with Temujin being billed as the "Ninja Killer". He was all over the news in '86. There was a lot of pressure to resolve the crime. Please remember that this border town is nice community and the officials do a lot to keep it that way. So maybe this or that happened. Like when the testimony of the Escanaba witnesses needed to be dealt with, the prosecutor suggested that a local pilot might have flown him to Escanaba. (No evidence was offered.) But that kind of thing was not the matter here, those folks never saw the photographs.

Temujin's original attorney, David Dean, was to testify via video link. There was some problem and the judge adjourned the proceedings indefinitely. As it turned out, the next day Dean did agree to testify. We had left town, thinking that it was over. A friend alerted us to the court reconvening and we scurried back up to Port H. Unfortunately we were too late to hear Dean's testimony. All I have to go on is Ms. LeBlanc's article and what others have conveyed to us. Apparently Mr. Dean fairly well quoted the prosecutors words of the day before. This directly contradicted sworn affidavits Dean had given to the U of M defense team previously. What to think! What would make him change his mind about the facts?

Then came the summation of the prosecution and the defense. It reminded me of some of the old Perry Mason episodes. Ms. Armstrong said none of this counted and didn't involve Brady at all. Ms. Caitlin Plummer for the defense, insisted that it was the heart of the matter. Judge West said he had to do something because the higher court had insisted, and that he couldn't take too long because they were waiting. He promised to move it to the "top of his pile".

So, we'll probably hear something in a couple of months. If Judge West rules it is not a Brady violation, then the officials in Port Huron will be relieved and business can go back to normal. But the Supreme Court may think otherwise and rule for a new trial or setting Temujin free. They may see such a ruling as protecting the "Old Gender-Non-Specific Network". David Mason is quoted in the Times Herald that Mr. Dean either perjured himself or if he saw the photos and didn't object at the trial, he was inadequate in his defense. I believe Mr. Dean was disbarred several years ago. I heard a similar matter of his was overturned for inadequate defense. Don't know if it involved his documented cocaine and alcohol problems.

Now you see what I mean by Justice Theatre 2014.

To our many foreign readers: Please do not judge our system too harshly. You weren't there and I'll bet you have problems of your own. Yes, you Chinese do stuff like this too, don't you.

POST SCRIPT, 3/18/2014
I wish to apologize to the People's Republic of China. It was not my intention to create a diplomatic incident by comparing your justice system to that of St. Clair County, Michigan. Please accept my apologies and disregard the above.
---
Feb. 18th, 2014
The hearing dates have now been set for March 12 and 13. The second day has been reserved by the judge in case more time is needed. That is probable.
Feb.8, 2014
The evidentiary hearing on faked and witheld evidence will be heard by Hon. Michael J. West of the St. Clair County Circuit Court in early March. The hearing was ordered by the Michigan Supreme Court. Temujin's attorney from his original trial has stated that he was not informed of or shown the material in question. The US Supreme Court has found for the defendant in a similar case. Faking evidence and lying to the jury is frowned on. Stay tuned. Rumors are that the prosecutors office is fighting tooth and nail to keep from having their chicanery exposed. Wonder why?
---
December 2nd, 2013
GREAT NEWS! The Michigan Supreme Court has ordered a lower court to review the photos used to identify Temujin in his original trial. That will be soon, perhaps as soon as next January. We don't have all the details yet, but it will be an evidentiary hearing regarding the photo used in the photo lineup. This is not the photo used in the trial. It is the one used to show witnesses. I have not seen it yet, but have heard that Temujin's photo was in the center of the group and printed larger than the others. Other evidence has also been found that, like this, was said to never exist. Due to the persistence of honest people much has been brought to light. The efforts of the University of Michigan Law School Innocence Project are to be lauded. But let's not get the cart before the horse. There has been a trail of chicanery behind this conviction from the beginning and I'm sure those same dark forces will oppose justice again. MAY JUSTICE IN AMERICA PREVAIL!

April 26th, 2013
We were honored last night to have the Made In Michigan Film Society feature "Justice Incarcerated" at their monthly meeting. It had been selected and shown at their Film Festival last year in Lapeer, MI. We were asked to update the audience on the progress - or lack of it - since the video was made. We related the sad story of the offhand rejection by the Federal Court of Appeals (see Below). With the magic of modern technology, Temujin was able to call my cell phone and do a Q&A with the audience on the speaker. It was well received and the film, as well as its creator, Dean Mongan, received high praise.

The Ken Burns doumentary, "The Central Park Five" was recently released on PBS. It is another tale of justice gone awry. Wish we had the national exposure. It is only the clamor of the public that gets the attention of the officials these days. No wonder the statue of Justice is shown with a blindfold. I always thought it was to keep it fair. No, it is to hide her tears. Don't get me wrong. There are many fine folks in law enforcement and the justice system. We need them for an orderly society. But money and power and drugs can corrupt some. Because of that, many suffer.

Is 15% too high a rate for innocent in prison? What should our society tolerate to give the citizens the illusion of safety? Now especially, we as citizens must define the kind of country and world we will live in.
---
December 23rd, 2012
We went to visit Temujin recently. We wanted to express our condolences in person. He is holding up well after A'miko's passing, but has torn a hamstring muscle and is walking with a crutch.

There is still hope in his case. Recently, a retired Port Huron (scene of the crime) police officer found the photo used in his original photo line up. It was not the one shown to the appeals courts. It has a large picture of him in the center and a couple of small polaroids one either side of other men. Well, recently, in another case, the US Supreme court said that is framing the guy. Temujin's U of M defense team is hopeful that this may finally bring him some justice.

If you wish to write him, the address is:
Temujin Kensu
189355
3225 John Conley Drive
Lapeer, MI 48446
---
November 26, 2012
With great sadness we report the passing of A'Miko Kensu, Temujin's wife. She was taken by cancer. Her soul was beautiful, may she rest in peace.
---
May 18, 2012

There is Justice and there is the System of justice.

In a most disturbing turn of events, the Federal Court of Appeals ruled against Temujin Kensu (aka Fredrick Freeman). They reversed the decision of the District Court judge in Detroit. That means he stays in prison. The District Court judge had found that Temujin was entitled to a new trial by reason of prosecutorial misconduct and inadequate defense. While the judges are learned men and bear the burden of administering justice, we cannot agree with their decision;

"For the foregoing reasons, the district court's order conditionally granting the writ is REVERSED and the case is REMANDED for entry of an order dismissing the petition as timebarred."

Here is the published version of the decision.
They seem to be saying that he took too long to ask for the trial, the District Court judge should not have looked at the case because of that, and there really wasn't good enough reason to give him a break. We believe he is innocent. We have discussed the reasons why on this webpage and produced a documentary summarizing those reasons. "JUSTICE INCARCERATED" http://www.youtube.com/watch?v=E2ok8hDBvhU
The Appeals judges discount that the snitch witness, Phillip Joplin, recanted his testimony before his death. I have seen that confession, it is a part of the documentary, check it out. Sure as hell looks to me like a man confessing. The judges say that he didn't sign an affidavit. Whoops, you forgot to dot that "i", stay in jail for life.

" Under all the circumstances, Joplin's unsworn recantation hardly represents such clearly exculpatory evidence as would render it more likely than not that no reasonable juror would have found Freeman guilty of Macklem's murder after all."

Really? Show them the video, I think most reasonable jurors would let him go on this alone. The prosecutor promised Joplin a deal, he took it, he perjured himself and later confessed to clear his conscience before he goes to meet his maker.

"This teaching highlights the deficiencies in the district court's explanation of its analysis. The district court permitted Freeman to pass through the gateway to argue the merits of his claims without first considering all the evidence and making "a probabilistic determination" that Freeman was "factually innocent"-that is, without first requiring Freeman to demonstrate that, more likely than not, no reasonable juror would have found him guilty beyond a reasonable doubt."

Well now, really! The District judge in Detroit made a judgment call that Temujin should get a new trial because his trial was piece of crap. The state attorney general appealed that decision. A new trial would take time and inconvenience them. The appeals court said that he took too long to file so, tough luck. You may be innocent but stay in jail for the rest of your life.

"The alibi witnesses who did testify were able to place Freeman in Escanaba several hours before and several hours after the time of Macklem's murder, approximately 9:00 a.m. on November 5, 1986. Since the record showed that Escanaba is well over 300 miles an at least a five-hour drive from Port Huron, it would have been nearly impossible for Freeman to drive between the two locations between the times he was reportedly observed in Escanaba by these witnesses and the time of the murder. In rebuttal, the prosecution presented evidence that a small plane could make the trip in less than two hours. There was no evidence substantiating the hypothetical possibility that Freeman had ever made such a trip between Port Huron and Escanaba."

But no evidence of any kind that this actually happened outside of the prosecutor's vivid imagination was ever produced.
So, Temujin presented several witnesses from Escanaba, local business people who knew him but were not long time friends or associates. The jury chose to accept the cockamamie theory that he could have dashed to the local airport and talked a pilot into flying him to Port Huron from Escanaba and back in time to establish an alibi within two hours of the murder. Nobody says the witnesses lied, they should have been charged with perjury if that was the case. It was not. Sound reasonable?
Maybe in the movies.

This argument by the prosecutor was introduced in final arguments and defense had no opportunity to rebut.

Enough already, Temujin sits in jail for life for a crime he did not commit. Really, that's Justice, REALLY? January 9, 2011

The outgoing Governor refused to grant Temujin a pardon as she was leaving office. In case you don't get it yet, this stopped being about justice a long time ago. They want to keep him in prison while they await appeal. Then drag it out while the appeal is heard, Then drag it out waiting for a new trial. Then if they go to a new trial to drag that out as long as possible. Then if he is set free, he will sue for wrongful conviction. That will drag out in courts. The idea is to try to outlast him before they have to pay for their chicanery.
So, I guess that is what justice is about, money and power and protecting the important people from censure. It sure has improved since the middle ages, hasn't it. Maybe they should go back to the water test. Let's dunk him and see. If he floats he is innocent. If not he's a witch.
FYI. Temujin is still a bright and worthy man, uncorrupted by his situation. Bless you, my friend, stay strong and outlive the bastards.

---

TEMUJIN'S CONVICTION OVERTURNED, October 2010
An article in the Port Huron Times Herald says that Federal Judge Denise Page-Hood has overturned the 1986 conviction due to prosecutorial misconduct and ineffective (drunken coke-head) trial counsel. We have been hoping for this for many years. So maybe there is still justice in America. Judge Page-hood has great moral courage, thank you and bless you.

---

JUSTICE INCARCERATED
The Fredrick Freeman Story
The documentary has been selected to be shown in the Blue Water Film Festival, in Port Huron, Michigan on October 8th, 2010.

IT WOULD BE MOST HELPFUL IF YOU WOULD PLEASE ASK YOUR FAVORITE DOCUMENTARY CHANNEL, PBS, DISCOVERY, etc., TO SHOW THIS ON TELEVISION.

---


OCT 8TH, 2010
TEMUJIN PAROLE HEARING
We attended the recent hearing of Temujin's request for parole on the basis of innocence. This is not what the parole board is used to hearing. Most who come before them do so with contrition for past misdeeds, beg forgiveness and promise never to stray again. Instead, Temujin still strongly insists on his innocence and is willing to be paroled as a convicted killer to gain his freedom.

It turned out to be the longest parole hearing in the board's history, two days and nearly 30 hours of testimony and cross examination. Many were opposed, the prior witnesses against him and the county prosecutor. Many stood for him. Most notable was his current attorney in his federal Habeus appeal. He is a law professor at the University of Michigan and member of their innocence project. The U of M Innocence Project looks at thousands of appeals for their help and selects only those that they unanimously feel are innocent and have no DN A involved. Temujin is fortunate to be one of the very few they have selected.

I think the board heard a lot of hard core facts about what went wrong in this case. I hope many of their minds were opened to the injustice committed. But, it is their job to protect the citizens, not be judge and jury. When they get it wrong, it can be horribly wrong. I understand their concern. They will now consider the mass of testimony and decide whether or not to recommend parole to the governor. Governor Granholm is term limited and will be leaving office soon. I sincerely hope is he is granted his freedom.

Here is the text of my testimony:
In Defense of Temujin Kensu, aka Fredrick Freeman Presentation to the Michigan Parole Board, September 20, 2010

I have been advocating for Temujin Kensu for nearly a dozen years. I do not believe he received a fair trial. The reasons for this are numerous and we have detailed them in the documentary, "Justice Incarcerated", which I presented to the Board for your consideration. I was the producer along with my stepson Edward Cohn. My son Dean Mongan, was the director, editor and cinematographer. Edward is an attorney practicing in Michigan and Massachusetts. Dean is a filmmaker in Los Angeles, California. I became involved in Temujin's plight in 1999 when I agreed to perform his wedding to A'miko. I became curious about the apparent discrepancies in his case.

At first, I was concerned of being conned by a con. It was only after meeting with John Maire, his attorney at the time and still an interested party in this case. I then contacted two private a investigators who were also working pro bono. These men verified my doubts that Temujin had received a fair trail.

In the documentary, several attorneys and judges, notably Thomas Brennan, former Chief Justice of the Michigan Supreme Court, detail the many problems with the trial of Temujin Kensu, or as he was known at the time, Fredrick Freeman. Justice Brennan said that he would not have sent this case to the jury and would have dismissed it. Hopefully, this body is aware of many of those issues already. It is reasonable to say that there is justification for a new trial or a dismissal of the verdict. Many of us believe in his innocence and hope for his exoneration. He certainly deserves a pardon.

I have asked myself what would I have done as the prosecutor in a high profile criminal case. Media dogging the murder and demanding the arrest of the killer would be additional pressure. A ready culprit named by the fiancee of the victim, the suspect of dubious repute, all present an opportunity to quickly conclude an unpleasant matter. The business of justice being what it is, it is understandable that errors could have been committed. Mr. Kensu, after all, would not be only innocent man serving time. I have hear the number of 15 percent as a likely representation of prisoners who are innocent of the crimes that put them behind bars. That number was put forth by the Michigan State University School of Journalism at a symposium several years ago. I cannot vouch for its validity. Some feel it is too high, others feel it is too low. The Chairman of the state's Civil Right Commission, Matthew Wesaw, has been quoted as saying, "The state, however, pays the costs to incarcerate thousands of individuals who may have been determined innocent, or received a lesser sentence had the system worked the way it should." And this in a nation whose incarceration rates are 748 per 100,000, over six times higher than communist China at 120 per 100,000. These numbers are from the most recent issue of Science News, September 11, 2010.

However, this is a Parole Board hearing. I have been impressed by the professionalism and thoroughness of this board. Errors in the past have had terrible consequences. What now is in the best interests of the state, the citizenry and most certainly Mr. Kensu? I think we can agree that he is an intelligent man. He certainly must know that any harm to anyone involved would send him back to prison. I cannot believe he would be so foolish as to throw away this opportunity for freedom. In more than two decades of confinement, his infractions have, by and large, been of a minor nature. He has helped many fellow inmates while in prison. I have sent him several books to help improved his signing for the assistance of deaf prisoners. He has trained himself in the law and has declared his intention to continue the course of assisting others with his skills. He feels he can be gainfully employed and not a burden on the state. He has a home and a loving wife waiting. He has requested to be tethered so that his whereabouts may be tracked.

Temujin Kensu has served many, many years in prison. To proclaim him innocent would indeed be an expensive proposition. To begin a retrial would also be expensive and involve many recriminations of the authorities involved. Parole is an appealing option at this point. Whatever wrongs may have been committed against Mr. Kensu may be addressed in federal court and as a civil matter in a civil court.

Temujin has suffered numerous health problems in prison. He has almost died from medical problems. Not only because of his probable innocence, but also because of his age and health, I request that this board grant him parole. I sincerely believe that Temujin Kensu would return to the community as good and productive citizen.
Most Sincerely,
James Michael Mongan

---

OLDER POSTINGS MAY BE FOUND AT THE BOTTOM OF THIS PAGE.

---

Temujin Kensu is a man in prison for life for murder. Many of us feel that he was wrongfully convicted. There are numerous reasons to assert that he did not and could not have committed the crime. These reasons were independently verified by a private investigator, James McCachren and his associates in 1999. All appeals at the state level have been exhausted. His only hope for exoneration now lies in the hands of the federal court system and the Department of Justice. That could be a very long wait. Maybe if the Attorney General of the United States got about four million letters it might get his attention. He's got a lot in front of him already.

Temujin has taken this blow as well as could be expected. Like us, he had hoped to see the light of day after the Motion for Relief was heard. He is still advocating for his fellow prisoners and addressing inequities in the correctional system.

I originally became involved in Temujin's struggles after meeting with him for premarital counseling. I performed his wedding ceremony in prison to his very loyal current wife. (A'miko is quite a lady and has been tireless in his defense.) The apparent inequities in his case are glaring. I was very naive at the time and did not believe that the American system of justice could go so far awry. Now responsible groups are touting that at least 10% of prisoners are innocent - at a minimum - and 15% very likely. Plea bargaining and mandatory sentences haven't improved things. The war on drugs has filled the prisons with many little soldiers that drain the taxpayers resources and patience. Prosecutors and judges are pressured by media, budgets and re-election posturing to appear tough on crime. Unfortunately that seems to mean tough on innocence also. Things will not change until the people demand that we deal with each other in a truly fair and just way. We are only so great a people as we are. All the media hype in the world cannot change that.

Temujin (formerly known as Fredrick Freeman) has been moved again, new address below. Any message of hope and encouragement that you could send him would be a blessing.

WOODY'S WORDS

My name is Allen Woodside and I am a semi retired professional private investigator who once worked for Fred/Temujin and Denise/A'miko in effort to establish evidence of his innocence. Before going further, I would like to first thank you for the coverage you have given to his situation in today's paper. I'm delighted the media is starting to show more interest in his dilemma after all the years since his wrongful conviction. I especially appreciate the fair balance in your reporting.

I'm compelled to write you about my involvement in the case because I want to share my findings and feelings in hope that it will further enlighten you and other media folks to better understand the underling factors leading to the wrongful conviction of Mr. Freeman/Kensu. Chances are you have already heard what I'm telling you plus a lot more concerning other investigators findings and opinions. Nevertheless, I'd like you to read my commentaries and opinions more than anything else in hope that my perspective of the issues might lend to the overall picture of this unconscionable denial of justice.
(continued on the linked article)

Temujin's own account
of the events can be found on his new website,
ijconline.org. Click here.

---

To the many foreign visitors to this website, please note that an ordinary citizen such as myself does still have the freedom to write these words. Other supporters and myself still have the power to challenge our government and hold them to a higher standard. If you have questions on the American system of Justice or on this case, direct them to the United States Information Agency or your local American Embassy. If you wish to email your comments to me, they would be appreciated.

---

OLDER POSTINGS

Here's an email from Temujin's wife A'miko.
May 29, 2009
Hi,
Well, we have been busy. If you haven't heard by now Granholm in March denied his Clemency petition blaming the fact that the board didn't give him a public hearing, yada yada. Never mind that she could have sent it back saying I need one to make up my mind. Heaven forbid our Governor actually make a decision and stop swaying in the breeze. On a brighter note in Federal Court our judge issued a ruling in our favor to allow all the new material that the Port Huron retired detective came up with and she seems to have a good idea of what happened. The only down side is that habeas petitions are averaging about 5 years.

Proving Innocence which is a group started by Bill Proctor is really starting to take off and they have issued several press releases regarding TK's case. There is a Kensu Campaign Page that I hope everybody goes to and sends the letters to the governor and attorney general and also signs the petition. Please send it on we need all the signatures we can get. Ross Parker has taken over as his attorney. Ross was a US Attorney for 30 years and the head of the criminal division in Detroit.
Here's the link to the Campaign Page.

The story also was in the Flint Journal on Memorial Day:

I wish I could say he was doing good but his shoulder has torn the rest of the way and he has lost the use of his left arm. The main artery to the arm is pinched in the separation and the facility and hospital doctor say any further breakdown in the joint and the main artery will most likely be torn. We just found out today that even though the prison contracted insurance company approved fixing it the MDOC said they will not allow it and they even took him off any pain medication. I really can't even describe how I feel right now about everything.

---

An article appeared in the Detroit Free Press in mid December 08, Shaky Evidence Still Led to Murder Conviction with important updates on Temujin's case. But no good news. in fact, there was a disturbing comment. I quote the reporter, Jeff Garrett.
"In 2007, the governor's new Executive Clemency Advisory Council voted unanimously that Freeman's case had merit, records show. On Feb. 15 of this year, the Parole Board voted 6-3 to take "preliminary interest" in the case, said MDOC spokesman Russ Marlan. But after getting a psychological report, the board voted 9-0 on April 25 to oppose the commutation."

So in other words, if you get upset by being set up and put in prison for life by a drug gang, then you shouldn't be let free. Why not? Freedom might actually help you on the outside?

Kudos to the Free Press for this hard hitting article. Shame on those weak of moral courage. Shame on the trembling poiticians and judges who cringe at the thought of justice. Next time you hear of a prosecutor bragging about his high conviction numbers, know that is by the convoluting of justice and the prosecution of innocents.

---


Here's another story from Sandy Saboda. Apparently the defense team has been allowed to view the evidence from the case. Gosh isn't that supposed to happen before the trial rather than a couple of decades later. It includes the shotgun shell that the prosecutors didn't think was significant enough to bring up. Lost and Found, Metro Times Feb 13th,08

December 5th, 2007
While you are enjoying the warmth of your holiday festivities, give a thought to Temujin. He will be spending his Christmas behind bars for the 21st year. So far there has been no action on his case, even after all of the positive support he received last summer and the parole board review. I can't say nothing is happening. I simply don't know of progress. But it still lies heavy on the heart. Merry Christmas Temujin, may the new year bring you freedom.
September 5th, 2007
Detroit's Metro Times published an update on some encouraging news. Look for NEWS HITS in the 8/29/07 issue at www.metrotimes.com . And check out the new link. Sandra Svaboda accompanied him on his interview with the head of the parole board, Temujin pleads his own case. Essentially what seems to be happening is that the state's new Clemency Board recommended that the Parole board reopen Temujin's case. Hopefully, it will result in his freedom. Whether or not that involves exoneration is perhaps another matter. This horribly mishandled case is now an embarassment to the state. So if this is a blow for Justice or a blow to Justice is still an open question.

Since we began this crusade many years ago, it was a mind boggling concept that our system of justice could send an innocent man to prison. In the intervening years, it is no longer a surprise. Numbers of 15% of the prison population being innocent are not jaw-droppers anymore. That figure is considered a minimum. It isn't just Michigan, it's America. We will face many more challenges and changes in our near future. How we handle them as a people directly determines what this nation becomes. And that "as a people" part means you and I. It used to be that "Freedom, Justice and the American way of life" brought pride to the soul and a beacon of hope to the rest of the world. It will not, if you do not believe it, live it and demand it of you officials. After all, they work for you and are payed by you. If, as their employer, you were faced with the decision to keep 'em or fire 'em, what would be your choice? If you say "Fire 'em", why are they still chomping chicken on your money?
August 8th, 2007
Part 2 of the METRO TIMES article about Temujin is on the streets and on their website.
"REASONABLE DOUBTS, Part II" is the title. It is by Sandra Svoboda, who has done a most thorough job of telling the tale. You can click this link to access it. Their website has this story in full and Part I also, check it out. It is hard hitting journalism at its finest. I think Sandi should get a Pulitzer Prize for this. I guarantee you will not be bored for a minute, even though it is a several pages long.

So here we are as a nation, trying to convince the world that we have their best interests at heart. Frankly, we are trying to convince our own citizens that we have their best interests at heart. Here is a coverup for a drug hit that puts an innocent guy behind bars for life. How can any responsible government official, that claims to represent the people, turn a blind eye. WHERE IS THE DEPARTMENT OF JUSTICE! WHERE ARE THE GOOD GUYS! WE THE PEOPLE ARE BEING SCREWED OVER BY THOSE WE ELECTED TO REPRESENT US. Remember the "OF THE PEOPLE AND FOR THE PEOPLE" thing. That is what gives us the "SHALL NOT PERISH FROM THIS EARTH" part. When we become just another banana republic are we entitled to perpetual grazing rights? If you citizens sit on your asses and watch it all crumble around you, don't bitch when they haul your sorry butt off to a re-education camp. Don't think it can't happen here. It is happening here. The problem isn't them, IT IS YOU!

This is not only about Temujin. It is also about the thousands of others who rights have been violated and whose freedom has been unjustly taken away.

---

August 1st, 2007
METRO TIMES is a local news and entertainment weekly in Detroit. They tackle stories that the majors won't touch, like this one. Temijin is the lead story this week with Part 2 due next week (August 8th).

"REASONABLE DOUBTS" is the title. It is by Sandra Svoboda, who has done a most thorough job of telling the tale. Can't wait to see Part 2. Their website has the story in full, check it out.

The documentary was presented at Central United Methodist Church in Detroit as announced. It was very well received and must have had an impact. The attorney general of Michigan is asking the judges of the Federal Eastern District to recuse themselves. I understand that the reasoning goes that since the prosecutor in the case is now a judge on that bench, it would be better to move it. Sounds fair, except that he is a Republican and the judge hearing the case is a Democrat. Moving it to the west side of the state would get it into the hands of a good conservative Republican. Humm, let's see, wasn't the prosecutor in the case a Republican also? Yup, darn near every elected official in Port Huron - the scene of the crime- is a Republican. Shame I never saw the Republican sticker on the statue of justice. Not that I have anything against Republicans, just politics is inappropriate here. After all our governor is a Democrat and wouldn't touch the case when she was attorney general. Why the hell is it so tough to get justice around here? Even my cats know this case stinks to high heaven.

---

June 1st, 2007
The most vocal advocate for this case has for many years been TV Reporter par excellence, Bill Proctor. Bill began airing pieces on Temujin in the 90's on the local ABC affiliate, WXYZ, Channel 7 in Detroit. He is a former Detroit police officer with much street cred as they say these days. He has announced that he is taking an unpaid leave of absence from his job with Channel 7 to pursue the investigation further. He intends to pursue leads to the true killer and investigate the real reasons for the coverup which tossed Temujin to the wolves. That, my friends, is truely courageous journalism. Our loudest cheers go out for him. Here are a couple of links to this story, I cannot say how long they will stay active.
Channel 7's online news summary
Here's an interview on rival Fox News

---

The Ides of March, the 15th, 2007
Temujin's Attorney has filed a petition for a writ of habeas corpus before US District Judge Denise Page Hood. This is most lkely his last chance to get a claim of wrongful conviction into the federal court system. A recent article in the Port Huron Times Herald gives more details, Murder appeal reaches court. It has been posted to this site with permission of Mr. Chapin. A documentary is in production and a link to a trailer is posted on the home page of this site.

The former prosecutor in the case, Robert Cleland, is now a federal judge serving in the same court. We can only hope and pray that Judge Denise Page Hood will review the petition on its merit alone.

If you believe that justice in the United States in general, Michigan in particular has suffered serious blows to its integrity, now would be great time to let that be known. Somehow, somewhere make yourself be heard that you believe in the Constitution, the rule of law and justice equally for all.

---

JULY 14th, 2006
When we first became involved with Temujin's case, our feeling was that Justice had not been well served in his conviction. It was our hope then, as it is now, that he would be given a fair and impartial trial. We still hope for his exoneration and the conviction of the true killer.

Now it appears that hope will not be realized for a very long time, if ever. There is the very real possibility that Temujin will spend his life in prison for a crime he did not commit. Facing that, it would not be prudent to refuse an opportunity for parole if one were offered. He would at least have his freedom. In the past he has opposed this choice just as he opposed making any deals at his initial trial. He insisted on his innocence which invited the wrath of officials who brought the full weight of punishment upon him.

As a practical matter, it is not in the interest of the state to exonerate him. To do so would invite a lawsuit for wrongful incarceration that could cost Michigan a lot of money. The economy of the State of Michigan is currently the worst among the 50 states. Large settlements would not sit well with the voters. After all, politicians and judges seek reelection. They often do so on promises to be tough on crime. That can be tough on innocence, as it is conviction numbers that are thrown to voters. Exoneration numbers are not boasted. When was the last time you heard a politician say, "Look how many innocent people I have set free". We would wish that such a boast gathered the praise and support of the electorate. It does not. Those in politics are, if anything, savvy in the ways of courting the favor of the electorate.

---

The Temple of Creation Evolving is an independent religious organization. Questions should be addressed to temple@m2solids.com